Bonito Island Small Private Resort Near Batangas
Bonito Island is located in the Verde Island passages, just east of Maricaban Island and south-west of Batangas City. Isla Bonito Island Resort, where we stayed, is the only resort on this island, so it's very private. Isla Bonito is a Korean owned and run resort, with the emphasis being on scuba diving and training. The location of the island is excellent as it isn't very difficult to get to, being only a one-hour boat ride from Mabini (Talaga) Port.
There isn't much to see and do on the island itself except swim in the pool and generally just chill out, which is exactly what we did as a family. The resort has eleven rooms and when we were there, it was about 70% occupied, all by South Koreans.
Water activities on Bonito Island
Some of the activities, aside from scuba diving, include snorkelling, fishing, and island hopping, as well as swimming pool with ocean views.
The white sand beach is quite nice although there are parts that have a lot of pebbles and stones making it very uncomfortable if going barefoot. However, as the resort and its beach faces mostly towards the west, you get some epic sunsets.
We stayed at Isla Bonito Island Resort for three nights in between Christmas and New Year. That was more than enough time for us experience the island and the nearby surrounds, taking in Masasa Beach on Maricaban Island. If you want a very chilled out island type resort that is easy to get to and not overly expensive, then Isla Bonito is a place worth visiting.
A ripping sunset from our first night overlooking the swimming pool. The seclusion of this resort brings on all sorts of relaxing emotions.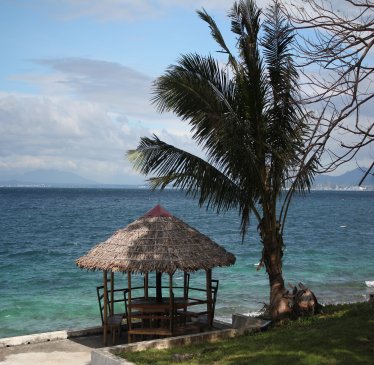 I basically sat in this little hut for the whole time we were there, even until night time. I'm a cricket fan and spent the whole of the first day of the Boxing Day Test streaming cricket on my phone whilst enjoying the peaceful surrounds and a beer or ten.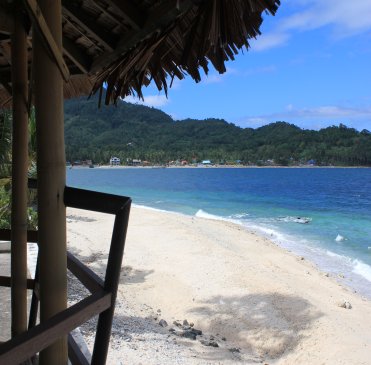 The amazing view from "my" little nipa hut. I arguably spent more time in this hut than our room – and why not with views like this!
Beach shot of Bonito Island. Most of the sand is nice and quite fine, but you can see there are some parts that are quite rocky with lots of pebbles washed up from the tide.
Absolutely amazing sunset from our last night. The sky was a little stormy which created some amazing colours, including the deep green in the water on the shoreline.