Bacolod City – Historical Centre Of Negros Occidental
Bacolod City is the capital city of Negros Occidental and is a very urbanized and sprawling town with a vast history, and a population of over half a million. However, from a tourist perspective, aside from a couple of historical churches and casa's, the casino, the annual MassKara Festival and the Golden Fields entertainment district, it really is just another Filipino provincial town.
On the outskirts of Bacolod, there are a couple of small waterfalls and rivers, as well as Mt. Kanlaon, the Philippines third most active volcano, about 30kms south of Bacolod City proper.
There is also Mambukal Resort in nearby Murcia in which there is some good hiking and swimming opportunities, or you can also visit nearby Silay in which they have cultural tours of the area including the heritage houses.
The Ruins in Talisay City
Another popular destination for tourists is "The Ruins" in Talisay City. This has been considered as one of the twelve most fascinating ruins in the world and stands as a major historical monument in the area. "The Ruins" was a mansion built in the early 1900s by a local sugar baron but was burned down during the Second World War. All that remains is the skeletal structure of the building.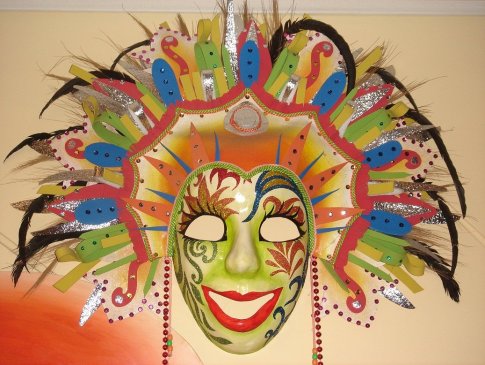 A mask from the MassKara Festival in Bacolod, which is held in the third week of October each year and is one of the best festivals in the Philippines.
The MassKara Festival in full swing is one of not only Bacolod's most renowned festivals, but it is known all across the Philippines and throughout Asia.
Mt. Kanloan, an active volcano on the outskirts of Bacolod is also the highest peak in the Visayas region. This is a very popular mountain for hiking enthusiasts. Unfortunately, I haven't had the time to do a hike there, but it's on my to-do list!
"The Ruins" is a mansion built in the early 1900s by the sugar baron, Don Mariano Ledesma Lacson and was the largest residential structure ever built at that time.