Hinoba-an A Paradise In Negros
Hinoba-an is classified as a first class municipality and was my first real introduction to Negros Occidental, and left me craving for more. This is the place in which my love of Negros was born. If it wasn't for my work, I would possibly have never discovered this place. My first thoughts, as I stood there gazing out to the Sulu Sea, breathing in the fresh air was "why isn't this place crawling with tourists?"
Hinoba-an is a very small town. Aside from the hustle and bustle of the town centre, there isn't much to the place. There are only a handful of local style resorts here which makes it even more attractive. However, what Hinoba-an lacks in infrastructure, it more than makes up for with the natural beauty this place has been adorned with. If you are ever in Negros, you really need to check this place out! However, be careful. You could easily drive through it and miss it! See Google maps below to find out where this little treasure is located.
A postcard-perfect beach – swaying palms trees, golden sand and the beautiful blue waters of the Sulu Sea. Once again, where are all the bloody tourists?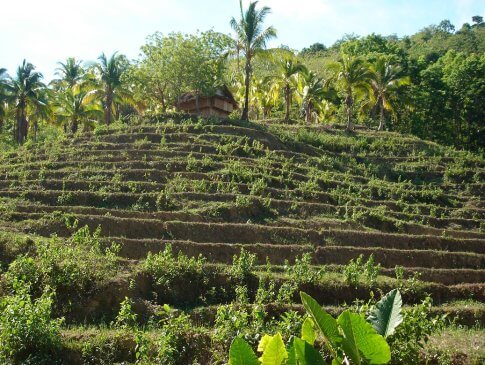 Rice terraces are a fairly common site just about anywhere there are mountainous areas. This one is on the way up to the mountains in Nabulao.
Cameras never do justice to these types of photos. Mountain after mountain after mountain as far as the eye can see, unfortunately, just not in this photo
Sunset at about 500 metres above sea level, way up in the mountains of Nabulao, looking back towards the Sulu Sea.