Batangas Province 12 Tourist Hotspots To Visit in 2020 [Updated]
Written and updated by Dezza, 25 February 2020.
Following on with our series on the best places to visit within driving distance of Manila in 2020, we will feature the fourth out of the five provinces that make up the Calabarzon Region, Batangas province.
Batangas province easily has the most beaches of all the five provinces in the Calabarzon Region. Around about two-thirds of Batangas province is made up of coastline.
As a result, there is some spectacular scenery including rock formations, cliffs, and caves to complement the numerous beaches. These places are among some of the best places in the Philippines.
If you're into diving, then you'll be sure to enjoy the many diving locations available in and around Batangas province, with Anilao being the most notable.
Some of the best diving spots to be found in the Philippines are located in Batangas province. There are also a number of historical landmarks that include lighthouses and churches.
So let's take a look now at the best 12 places to visit in Batangas province in 2020.
1). Laiya
My personal favourite, Laiya. Laiya is easily the best stretch beach in the whole of Batangas province and one of the best Philippines destinations.
Here you will find a 10-15 km stretch of white sand beaches that are as good as anything you find in the country. All of this is only about 2.5 hours drive by car from Manila.
There are a number of resorts down there if you fancy staying for the weekend or even just overnight. However, if you are pressed for time, you can easily visit these places within a day. You can check out more with my video here.
Google Maps: Laiya

2). Taal Volcano
If you are into a little bit of adventure then Taal Volcano is a must-see option. Taal Volcano is located in Tagaytay and is the Philippines second most active volcano with the last major eruption occurring in 1977.
It is a very picturesque and unique volcano in that it is a volcano within a volcano. When you first see lake Taal, the first thing you'll notice is a volcano in the middle of the lake.
However, the lake itself is actually a crater of a bigger volcano. There is an option to take a boat out to the island volcano and then ride horseback to the crater.
There is also the option to hike to the crater on foot but I would recommend to do it on horseback. I made a pretty basic video which you can watch here.
Google Maps: Taal Volcano
3). Anilao
Regarded as one of the Philippines best diving destinations, Anilao is becoming a very popular location. Most of the shoreline is quite rocky however, you can still find a few nice pocket beaches in the area.
Being only about three hours drive from Manila, it is rapidly growing in popularity not just among divers, but tourists in the general. The best time of the year to visit is between January and April.
You can do this as a day trip or stay overnight or for the weekend as there is a wide number of accommodation options available. You can read more by clicking here.
Google Maps: Anilao

4). Calatagan
Calatagan is a relatively underrated location compared to other more popular locations such as Anilao or Laiya. Located on a peninsula, there is plenty of water around and accordingly, is a place very rich in marine biodiversity.
There are a handful of beach resorts that are available including Stilts, which is named as such due to the bungalows that are located on stilts in the water.
Stilts also has three beaches and they welcome day visitors so you don't have to stay overnight if you are pressed for time. You can read more about Calatagan by clicking here.
Google Maps: Calatagan

5). Tagaytay
Tagaytay is one of the most popular weekend getaway places for those living in Manila. At 639 MASL, the climate is a little bit cooler and the air is fresh, which is one of the main attractions.
There are a number of resorts, restaurants, and recreational facilities in the area. As mentioned earlier, it is also home to Taal Volcano.
The other attraction is the fact that it is less than 60 kilometres from Manila making it a quick escape for weekenders.
Google Maps: Tagaytay
6). Calayo
Calayo is a sleepy little town in the municipality of Nasugbu and in my personal opinion, is one of the nicest beaches within driving distance of Manila. The sand is very powdery and relatively clean.
Although it isn't your classic golden or white sand beach, it is still very respectable. The water is very clean and there are palm trees lining the beach with spectacular mountain ranges in the background.
With the beach facing virtually due west, you also get a full view of the sunsets which need to be seen to be believed. Check out my vlog for more.
Google Maps: Calayo

7). Maya Maya
Maya Maya is one of my favourite places not just in Batangas province, but in all of the Philippines.
I'm very fortunate in that I have a couple of close friends that have holiday houses in Maya Maya and I've had the opportunity to spend a lot of time there.
This area is quite mountainous so one of the key features is that it offers fantastic views across Nasugbu Bay and beyond to the South China Sea.
Being located on the western side of the Philippines, it is also sheltered from most of the usual severe weather. There are a lot of holiday houses in Maya Maya and with Airbnb becoming very popular, I would recommend that you look for a house on Airbnb and spend the weekend down in Maya Maya.
Being only about a 2-hour drive from Manila, you won't regret it. Check out my vlog for more of an idea of what you can expect in the Maya Maya area.
Google Maps: Maya Maya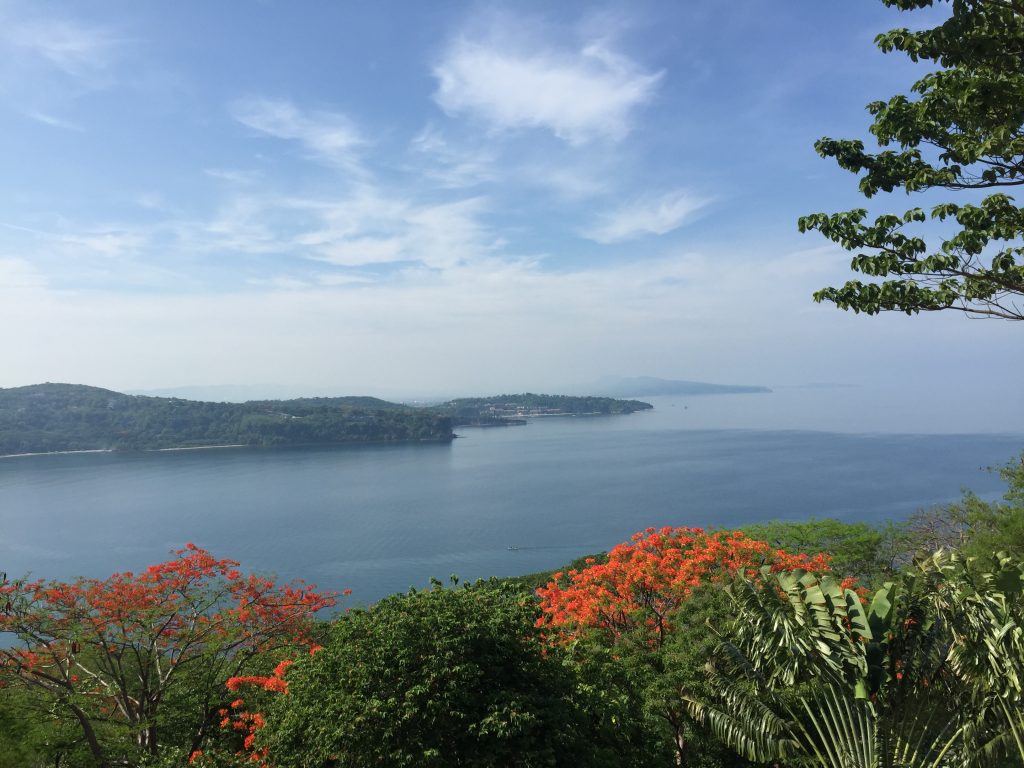 8). Punta Fuego
Punta Fuego is an exclusive residential beach and lifestyle resort. A large majority of the villas are Mediterranean inspired and leave you feeling like you are somewhere in the Mediterranean and not the Philippines.
Surrounded by water, and with sensational facilities, there is no need to leave the resort once you are there. Complete with clubhouse, restaurants and even a golf course, this really does make for a relaxing weekend getaway or even just a day trip.
Unfortunately, in order to gain access, you do need to be accompanied by a member. So if you get the opportunity to visit Punta Fuego, you simply have to take up that offer.
Google Maps: Punta Fuego
9). Terrazas de Punta Fuego
Just like Punta Fuego, Terrazas de Punta Fuego, this is an exclusive resort club. However, unlike Punta Fuego, this resort is located right on the beach.
There is a beautiful scenic boardwalk along the beach as well as Balinese style cabanas surrounding the infinity pool overlooking Nasugbu Bay. And the beach itself has beautiful white sand and is arguably the best beach in the area.
Complete with restaurants, bars and a myriad of water activities, it doesn't really get much better than this. Just like Punta Fuego, the only drawback is that you need to be accompanied by a member.
So if you are fortunate enough to know a member, or know somebody who does, then you simply must visit Terrazas de Punta Fuego. You can see more by checking out my vlog.
Google Maps: Terrazas de Punta Fuego
10). Mt. Maculot
Mt. Maculot is located in Cuenca and at 930 MASL, is a very popular hiking destination for people of all levels of hiking experience.
With spectacular views overlooking Taal Lake and Taal Volcano, it's easy to see why this has grown in popularity for hikers.
If you are looking for an adventure that isn't overly vigorous, then a day trip to Mt. Maculot might just fit the bill. You can read more by clicking here.

Google Maps: Mt. Maculot
11). Maricaban Island
Maricaban Island is a fairly large island located around about four kilometres southwest of Batangas City. The main feature of Maricaban Island is Masasa Beach which is a secluded white sand beach on the southern side of the island.
When we went there about 4 years ago, at Christmas time, there was hardly a person to be seen. We basically had the entire beach to ourselves for the whole day.
This is a place that you can visit in a day from Manila if you are pressed for time. The only catch is that you need to take a boat to reach the island so you need to be careful what time of the year you choose to go.
You will find the summer months to be the best time (Feb to April). Check out my video for more info.
Google Maps: Maricaban Island
12). Bonito Island
Bonito Island, also known as Isla Bonito, is a tiny island located in the Verde Island passages, southwest of Batangas City and just off the east coast of Maricaban Island.
There is only one resort on this island that has an emphasis on scuba diving and training for scuba diving. The resort is owned and run by South Koreans so is a slightly better standard than a typical local resort.
If you are looking for a real private weekend getaway, then I'm sure you will enjoy this unique place.
As mentioned, in the previous write up about Maricaban Island, you need to be careful what time of the year you choose to go as it is about a one-hour boat ride from Mabini.
You will find the summer months to be the best time (Feb to April).
Google Maps: Bonito Island
Related Videos:
Wow! Wait Until You See This Beach Near Manila | Deztreks
Absolute Paradise Only Two Hours from Manila! | Deztreks
Best Weekend Getaway Close to Manila! | Deztreks
Amazing! Check out this hidden gem driving distance from Manila | Deztreks
Maricaban Island | day trip from Manila for adventurers | Deztreks
If you found this article useful, please leave your comments below and don't forget to like and share with family and friends. Please also check out the related articles below.
Related Articles:
Cavite Province Top 10 Places To Visit
Best 10 Places To Visit In Laguna Province
15 Tourist Hotspots In Southern Luzon
More Places in the Philippines: