Best 10 Places To Visit In Laguna Province in 2020 [Updated]
Written and updated by Dezza, 25 February 2020.
Continuing on with my series about the best places to visit in the Calabarzon Region in Southern Luzon, this week we are going to look at Laguna province.
In my last article, we talked about Rizal and the top 12 places to visit in this very diverse province in 2019. Now we will shift the focus to its neighbour, Laguna.
In my last article about Rizal Province, I highlighted how the province received its name from the national hero of the Philippines Jose Rizal. Jose Rizal himself was actually born in Laguna.
Before the arrival of the Spanish in the 1500s, the history of Laguna can be traced all the way back to 900AD with the discovery of the Laguna Copperplate Inscription, the earliest known written document to be found in the Philippines.
Laguna province itself is very unique compared to some of the other Philippines destinations in the Calabarzon Region in that it is totally landlocked.
This means Laguna doesn't have any beaches however, it is blessed with some of the most amazing waterfalls, natural springs, rainforests, and volcanoes in the country.
About one-third of Laguna province borders Laguna de Bay (sometimes referred to as Lake Laguna), which is the largest lake in the Philippines. So although there are no beaches, Lake Laguna is the main feature of this province.
The best part about it is that all of these epic places are only 2 to 3 hours drive from Manila and make for a fantastic day trip that you can have with friends and family.
Now let's take a brief look at some of the best places that you can visit in the amazing province of Laguna in 2019.
1). Pagsanjan Falls
Pagsanjan Falls is the Philippines most famous waterfall and is a major international tourist attraction. Although not the highest or most graceful waterfall in the Philippines it is certainly one of the most powerful.
If you go there at the right time of year (Jan to Feb), there is still enough water from the end of the wet season keep this beast ferociously gushing water out like a cut jugular vein.
Pagsanjan Falls is about 2.5 hours from Manila and about a 2-hour relaxing canoe ride. This is one of the best places in the Philippines and is a must-visit being so close to Manila.
Google Maps: Pagsanjan (Cavinti) Falls
2). Hulugan Falls
I discovered Hulugan Falls while trawling the internet looking for places to visit within driving distance from Manila.
When I saw the photos of this beauty, and reading about how easy it was to get to, I had to go and take a look for myself.
Located just on the other side of the mountain range from Pagsanjan Falls, this really is one of the most beautiful waterfalls in the country. You can read more by clicking here.
Google Maps: Hulugan Falls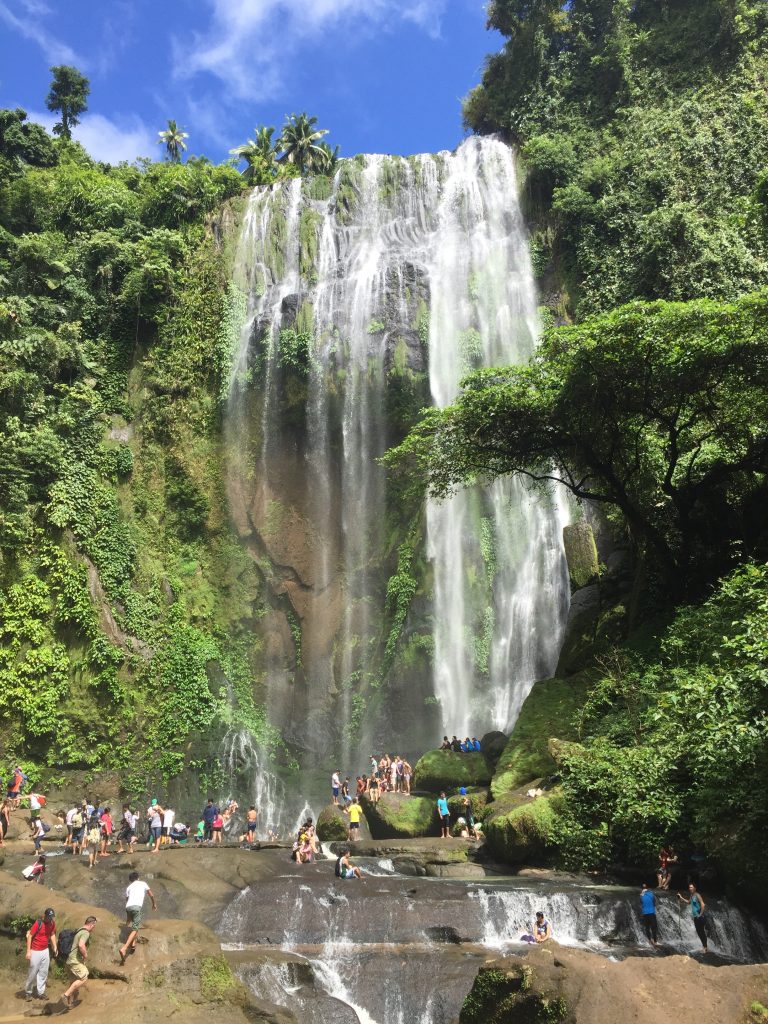 3). Paete
This is a truly remarkable hidden little town that offers so much history, culture and natural beauty. You can really make a fantastic day trip visiting Paete and taking in the 3 major tourist attractions in this area.
The first of these is Tatlong Krus which is a pilgrimage site with great views across Laguna Bay.
From there you can go down to Matabungka Falls where you can enjoy a picnic lunch and swim in the beautiful freshwater beneath this twin waterfall.
From there, you can then hike into Paete town proper to take a step back in time into the Spanish colonial period. Please check out my blog and my vlog to learn more about Paete.
Google Maps: Paete (Tutlong Krus)
4). Buntot Palos Falls
If you are into hiking and enjoy some adventure, then Buntot Palos Falls is you. This was one of the most difficult hikes I have been on, mostly due to the slippery terrain and due to the condition of the hiking trails.
This was mostly due to the time of year in which we went (January). The hike takes around about two hours but the waterfall is well worth it.
Like Pagsanjan Falls, this is a very powerful waterfall with a strong surge of water gushing down from the top of the gorge. It really is a spectacular looking waterfall. You can read more by clicking here to read my blog.
Google Maps: Buntot Palos Falls
5). Hidden Valley Springs
Hidden Valley Springs is actually a private resort which you can visit for the day or stay for a night or two.
It features beautifully landscaped gardens that have been created using the natural flow of the waterways that run through the property. The waters in this area are said to contain special healing powers.
As a result, the surrounding atmosphere is very relaxed. You can read more by clicking here to read my blog.
Google Maps: Hidden Valley Springs
6). Ambon Ambon Falls
This is one of the most enjoyable hikes that I have done in the Philippines. One of the main reasons for this is that the hike is adventurous yet not overly strenuous or demanding.
Ambon Ambon Falls is situated within an Eco Park, an initiative in which I am personally a great supporter of. Ambon Ambon Falls is relatively easy to reach which also makes it a very attractive place to visit.
Please check out my vlog about Ambon Ambon Falls.
Google Maps: Ambon Ambon Falls
7). Lake Caliraya
If you are looking for a nice relaxing place to get away from it all with family and friends, then Lake Caliraya is for you.
This is actually a man-made lake that has become a very popular place for watersports that include windsurfing, jet skiing, and water skiing. Bass fishing is also very popular.
There are several resorts located nearby if you fancy staying for the weekend. This is a great place to go for a family getaway.
Google Maps: Lake Caliraya
8). Mt. Romelo
Mt. Romelo is well known by Filipino locals as an established hiking area with a number of trails leading to waterfalls and lookout areas. If you are a beginner or intermediate hiker then Mt. Romelo is well suited to you.
For me, the highlight of the adventure was Buruwisan Falls. This is a very elegant waterfall that is very popular with locals. Some of the rock formations around this area are absolutely spectacular.
So if you enjoy a nice hike with some great scenery that isn't overly difficult, then click here to read more about Mt Romelo.
Google Maps: Mt. Romelo
9). Siniloan
Siniloan is very similar to Mt Romelo in that it is a well-known hiking area with established trails. These trails are not are very difficult to negotiate compared to some of the other destinations I have recommended in this article.
Therefore if you enjoy a little bit of a challenge without being overly difficult, then this is a great place for you to visit.
The feature of this hike is negotiating your way along the river at Hagdang Bato Falls all the way up to the very spectacular Tulay Na Bato Falls, which is the highlight of the hike.
You can read more by clicking here to read my blog.
Google Maps: Famy, Siniloan
10). Mt. Makiling
Tackling Mt. Makiling is easily the most difficult hike I have attempted in the Philippines and is not for the faint-hearted. This really should only be attempted by experienced hikers and should be avoided during the wet season.
The closer you get to the summit of this dormant volcano, the more difficult the terrain gets. The trail also becomes very slippery so extreme caution needs to be taken.
You can read more by clicking my blog here but this really should only be attempted by experienced hikers.
Google Maps: Mt. Makiling
Related Videos:
Ambon Ambon Falls The Best Waterfall Near Manila! | Deztreks
Absolutely Epic Day Trip From Manila | Paete Laguna
Siniloan Laguna | best hiking place near Manila | Deztreks
Hulugan Falls Laguna | best day trip near Manila | Deztreks
Pagsanjan Falls | Philippines most famous waterfall | Deztreks
Please check out the related articles below. If you found this article useful, please leave your comments below and don't forget to like and share with family and friends.
Related Articles:
15 Tourist Hotspots In Southern Luzon
15 Reasons Why The Philippines Is The Best Country in SE Asia
Best Waterfalls and Caves in Rizal Province
More Places in the Philippines: