Boracay vs Palawan: Which One Is Better?
Written by Dezza, 5 February 2023.
G'day all. I hope this blog finds everyone well and feeling excited that world travel is virtually back to normal in most countries around the world. Travel is making a comeback!
Today I thought I'd explore a topic that I have been meaning to write about for some time. There has been a long-running debate that often comes up when the question is asked "what is the best place to visit in the Philippines"?. This really is a tough question to answer. It's like trying to pick which one of your kids is your favourite – almost impossible. 
Inevitably, Boracay and Palawan always come up in the conversation as these are two of the Philippines' most famous and popular tourist destinations, with both places named in the top 10 of the world's most beautiful beaches by the travel publication Conde Nast traveller.
Over the years, with the above in mind, I have tried to develop some sort of a formula or at least some guidelines when it comes to choosing the best places to visit. At the end of the day, it comes down to what you are looking for. Do you want adventure? Do you wanna chill on a beach all day for a week? Do you wanna party? Do you want to explore natural wonders? Once you have an answer to that question, then we take it a step further.
To make things easier to decide, I normally divide the Philippines into the following 4 categories:
Some places satisfy all 4 categories, while some may satisfy only one. So the real question is, what do you want from your holiday? Once that question is answered, then that narrows down the options considerably. So now that we have established some ground rules, let's now take a look at Boracay and Palawan to help you decide which is the best place for you to visit based on what it is that you want from your holiday.
Boracay vs Palawan
There is no doubt about it and the awards and world recognition says it all. Boracay and Palawan are two of the most popular tourist destinations in the country, attracting thousands of visitors every year. With crystal-clear waters, powder-white sand, and breathtaking scenery, it's no wonder these two destinations have become synonymous with tropical island getaways.
Before we go on, I just want to mention that I won't be scoring these places against each other as they both offer completely different things. One is not better than the other; it just depends on what you are looking for on your holiday as both places offer something different and unique.
So, with all this in mind, let's get started and explore what these two stunning destinations have to offer!
Boracay
Boracay is located in the western Visayas region of the Philippines. From Manila, it's just under a one-hour flight to the nearest airport located in Caticlan. From Caticlan airport, you then need to take a short boat to the island, which is only about 15 minutes.
Boracay is a tiny island that is only about 4 kilometres long and 1 kilometre wide. The most famous and developed beach on the island is White Beach, which is a 4-kilometre stretch of pristine white sand and crystal-clear waters located on the western side of the island. This is where most of the restaurants, bars, and shops are located, making it the busiest and most vibrant part of the island. 
Visitors to White Beach can enjoy a range of water sports, including snorkelling, diving, and kayaking, as well as beach parties, live music, and other activities. Aside from White Beach, Boracay also offers plenty of opportunities for dining and shopping, with a wide range of options to suit all budgets and tastes. From street-side vendors selling local specialties to upscale restaurants serving international cuisine, there's something for everyone on the island.
The pros of visiting Boracay include its lively atmosphere, easy accessibility, and wide range of activities and amenities. The cons, however, include its large crowds and busy beach, as well as the high prices of many of the restaurants, bars, and shops. Additionally, some visitors may be put off by the commercialisation of the island, which has led to overdevelopment and environmental degradation in some areas. 
However, just before the pandemic, the island was closed for 6 months for some much-needed rehabilitation which has helped to bring back the island's former glory. So going back to my 4 categories, of beaches, waterfalls, caves and volcanoes, Boracay can really only boast beaches. And mind you, this is arguably one of the best beaches in the world!
So, if you are planning to chill by the beach all day and drink cocktails then there aren't many better places in the world than Boracay. As mentioned before, there are plenty of other things to keep you busy with cafes, bars, restaurants and a plethora of water activities. However, the beach is pretty much the one and only main attraction.
Palawan
Palawan is actually an island province located in the western region of the Philippines. There are nearly 1,800 islands that make up Palawan. And as you can imagine, each island in itself is absolutely stunning.
There are 3 airports that you can fly into when visiting Palawan – Coron, Puerto Princesa and El Nido. Each one is roughly only a one-hour flight from Manila and the airport you choose will largely depend on where you wish to stay and where you plan to visit.
One of the defining features of Palawan is its towering limestone cliffs, which rise up from the turquoise waters of the South China Sea. These cliffs are home to lush green forests, which are house a wide range of plant and animal species. Visitors to Palawan can explore these forests and cliffs through a range of activities, including island-hopping, kayaking, and hiking.
Another defining feature of Palawan is its turquoise waters, which are crystal-clear and teeming with marine life. Visitors can explore these waters through a range of water sports, including snorkelling, scuba diving, and kayaking. Additionally, there is a range of islands located off the coast of Palawan, each offering its own unique attractions and activities with scuba diving being the main attraction. The corals and marine life in Palawan are the best I have ever experienced.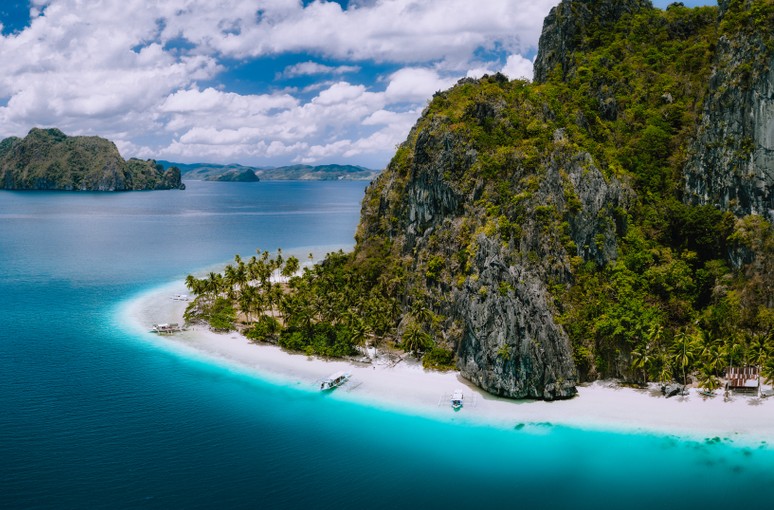 The pros of visiting Palawan include its stunning natural beauty, range of activities, and laid-back atmosphere. The cons, however, include the limited infrastructure and facilities on many of the smaller islands, as well as the higher prices of many of the restaurants and bars compared to other destinations in the Philippines. Additionally, some visitors may find the remote and isolated nature of Palawan to be a double-edged sword, with limited options for dining, shopping, and entertainment.
Going back to my 4 categories of beaches, waterfalls, caves and volcanoes, Palawan satisfies 2 of these – beaches and caves (underground river and limestone cliffs).
Comparison Between Boracay and Palawan
As mentioned earlier, I don't really like "comparing" Boracay and Palawan, as they are both totally different places and are both unique and beautiful in their own way. One of the key factors to consider is the lifestyle offered by each destination. Boracay is known for its vibrant nightlife, water sports, and beautiful 4km long white sand beach, making it a popular choice for travellers looking to chill out during the day and party at night. 
Palawan, on the other hand, is known for its plethora of adventure-filled options that include the underground river, island hopping, and numerous other water activities such as scuba diving, kayaking and even surfing. Then there are the numerous white sand beaches and many hiking trails that allow you to become one with nature.
So as we can see, each destination offers a unique and different type of beauty, with Boracay offering a more traditional beach experience and Palawan offering a more rugged and natural experience. One place is not necessarily better than the other – it just depends on what you're looking for in a holiday.
Cost is another factor to consider when comparing the two destinations. While Boracay is generally more expensive than other destinations in the Philippines, it is still relatively affordable compared to many other beach destinations around the world. Palawan, on the other hand, can be a bit more expensive due to the limited infrastructure and facilities on many of the smaller islands.
Final Thoughts
Both Boracay and Palawan offer unique and beautiful experiences for travellers. Boracay is a bustling party hub with vibrant nightlife, white sandy beaches that are great for chilling, and plenty of water activities. Palawan, on the other hand, is known for its stunning landscapes, such as its limestone cliffs, turquoise waters, and lush green forests. It also offers more outdoor and adventure activities, such as scuba diving, island-hopping, kayaking, and hiking.
When it comes to cost, both destinations can range in price, but Palawan tends to be a bit more expensive due to its more remote location. Crowds can also be a factor, with Boracay being more touristy and crowded in peak season, while Palawan can still be busy but offers many more secluded spots. At the end of the day, it ultimately comes down to personal preference. 
In terms of advice for travellers, it's important to consider the time of year you plan on visiting, as both destinations can get crowded during peak season. It's also important to be mindful of the environmental impact and consider responsible tourism practices. Palawan also experiences the southwestern monsoon known locally as "habagat", which starts in May and goes through until the end of September. During this time, it can literally rain nonstop for days on end so make sure you plan your trip accordingly.
So there we have it, both Boracay and Palawan are undoubtedly must-see destinations in the Philippines. Whether you choose one or both, you will truly be amazed by the natural beauty that both places have to offer so my recommendation is to check them both out!
Please like and share this article with friends and family or if you want to leave any comments or share your experiences, please leave your comments below. And please don't forget to check out my related articles and videos below.
Related Articles:
The Philippines Reopens To International Tourists
Best 20 Places To Visit In Palawan
15 Best Summer Destinations In The Philippines
More Places In The Philippines:
Related Videos: