15 Best Summer Destinations In The Philippines 2020
Written by Dezza, 20 January 2020.
Summer 2020 is almost here in the Philippines – have you decided where you are going to spend your summer?  
The Philippines is truly blessed with some of the best places in the world and summer is often the best time to enjoy them so you need to decide quickly before places get booked out!
Please keep reading to learn about the top 15 places to visit in the Philippines this summer.
For those that don't know, the summer months in the Philippines fall between February and April, so during these months, be prepared for hot and sunny conditions.
This is the dry time of year when rainy weather is less likely to affect travel plans but is also the busiest tourist season so anticipate larger crowds at all of the most popular tourist destinations.
The month of February will provide slightly cooler temperatures whereas April borders on the wet season and conditions can become slightly more humid. 
The entire country is totally accessible during the summer months unlike during the wet season where rain can cause flight cancellations and other inconveniences.
The luscious greenery, clear waters and white sandy beaches will be best appreciated in the summer when seeking out the best places in the Philippines for your summer holiday.
So to help with you planning for this summer, let's take a look below at 15 of the top Philippines destinations to add to your travel itinerary for 2020. For the record, I have been to 13 out of these 15 places:
Sorsogon, Donsol

Apo Island, Negros Oriental

Kawasan Falls, Cebu 

Hidden Valley Springs, Laguna

Camiguin Island, Mindanao

Banaue, Ifugao 

Pearl Farm Beach Resort, Davao

Tagaytay, Cavite 

El Nido, Palawan

Baguio City, Benguet

Baler, Aurora Province

Puerto Galera, Mindoro

Bohol 

Siquijor Island, Siquijor

Boracay, Aklan
1). Sorsogon, Donsol
If getting up close and personal with a whale shark is on your bucket list, then you need to visit Donsol in Sorsogon. 
These giant creatures appear in the waters off the coast of the Bicol Peninsula between January and June making the dry summer season the best time to view these magnificent, gentle creatures. 
The whale sharks in Donsol can be seen clearly swimming in the warm waters from the safety of a boat as part of a guided tour. 
Please be aware that boat trips need to be booked early as there are strict conservation rules regarding interaction with the whale sharks. 
Only one boat per whale shark – with a maximum of six people on board and no touching or flash photography allowed.
Google Maps – Sorsogon
2). Apo Island, Negros Oriental
Apo Island is a marine reserve and has become a sanctuary for massive sea turtles of which 2 of the 5 species in the Philippines can be found.
Local guided tours are available to allow tourists to experience swimming with the turtles up close and personal. 
Once again, conservation plays a major role in the entire experience and fines will be enforced for touching or in any other way interfering with the turtles. 
It is important to book a guided snorkelling tour early on to be sure to get the full experience of meeting these elusive giants of the ocean.
Needless to say, the corals are fantastic for those wanting to scuba dive and go snorkelling and the main beach is also sensational with powdery golden sand.
Google Maps – Apo Island

3). Kawasan Falls, Cebu 
There simply are not enough words to describe the beauty of the natural pools located along the Kawasan Falls. 
Kawasan Falls is packed with activities. Canyoneering, which involves a range of jumping into pools, rock-climbing, abseiling, scrambling and other techniques is the preferred method of reaching the falls. 
For those who aren't into this adrenaline-packed adventure, access to the falls is available from the main road and fairly easy to access. 
It is recommended to only use a guided tour for canyoneering and book well in advance for the best experience.
Google Maps – Kawasan Falls
4). Hidden Valley Springs, Laguna
Just as the name suggests, Hidden Valley Springs features several natural spring pools set amongst some absolutely beautifully landscaped gardens that make full use of the natural terrain.
There is no better place to spend summer than chilling in these refreshing rock pools away from the hustle and bustle of Manila. 
Located only about a two-hour drive from Manila, day trips to the natural springs are available as well as accommodation packages from the Hidden Valley Springs Resort.
Google Maps – Hidden Valley Springs
5). Camiguin Island, Mindanao
Camiguin Island, the island born of fire, is perhaps most well-known for its pristine white sandbar and clear turquoise waters. 
However, the volcanic peaks are also a sight to behold especially when you understand the history behind these monsters.
There are also some refreshing cold springs which are an excellent way to beat the heat of the day.
There is also a couple of waterfalls on the island with Katibawasan Falls being the main feature. Swimming in the rock pool of this waterfall is also a great way to cool down in the heat of the day.
Google Maps – Camiguin Island
6). Banaue, Ifugao 
The rice terraces of Banaue are absolutely spectacular with the mountainous areas offering some welcome relief from the summer heat of the Philippines. 
Declared a UNESCO World Heritage site, it takes about 10-12 hours to get there by car or bus so it's definitely best to spend a night or two there.
Just about everywhere you travel throughout the region, you will see rice terraces carved into just about every single bit of available mountainside. It is a truly amazing experience.
Guided tours of the best rice terraces such as Batad and Bangaan are available. This is fully recommended as the roads up there can be a bit dangerous so having local knowledge is a major advantage.
Accommodation options are somewhat limited so make sure you book early to avoid disappointment.
Google Maps – Banaue
7). Pearl Farm Beach Resort, Davao
The Pearl Farm Beach Resort has made every effort to incorporate as much cultural authenticity relative to the Philippines into the design and structure of the accommodation and other available amenities. 
Villas and cottages that are on stilts in the water are available making it the ideal destination for couples, families or groups. 
There is a great restaurant and bar, two sensational swimming pools, and plenty of water activities including snorkelling, jet skis and kayaking to keep the whole family occupied.
Google Maps – Pearl Farm Beach Resort
8). Tagaytay, Cavite 
Located just 60 km south of Manila lies the peaceful city of Tagaytay. This was until January 12 this year (2020) when Taal Volcano awoke after 42 years, spewing ash all-around place.
If you plan to head to Tagaytay this summer,  you first just need to check the status of Taal Volcano and how clean the area is you plan to travel to as there is still a lot of cleaning up to do.
However, Taal Volcano aside, Tagaytay is a pleasant place that is slightly off the beaten tourist track and is a little quieter for those seeking a more authentic experience that isn't directly targeted at the tourist trade. 
Due to its high elevation, it has become known as "the second summer capital of the Philippines" after Baguio.
With stunning views overlooking Taal Volcano, this is a perfect place for a quick weekend getaway with a number of health spas and retreats located in the area.
There are also a number of activities in Tagaytay including SM Sky Ranch, Picnic Grove, Peoples Park and Paradizoo.
Google Maps – Tagaytay
9). El Nido, Palawan 
When it comes to El Nido it is difficult to know where to start. You can check out my blog on the 20 best places to visit in Palawan to help you out.
El Nido has everything that makes for the perfect holiday destination – white sand beaches, clean clear waters, stunning scenery (limestone cliffs, mountains and caves) adventure sports and of course thriving coral reefs and lagoons that are simply ideal for snorkelling. 
This is also the perfect starting point to indulge in some island hopping between the 45 islands surrounding El Nido. Once here, you won't wanna go home.
Google Maps – El Nido
10). Baguio City, Benguet
The City of Baguio is affectionately referred to as the summer capital of the Philippines. 
Set high in the mountainous regions of Luzon at around 1,500 MASL, the cooler climate makes it the ideal destination for those who want to enjoy the Philipines without the heat.
The name Baguio is synonymous with the word "moss" resulting from the soft green moss that grows prolifically in the cool moist climate, which is normally several degrees cooler than the lowlands.
Holy Week (Easter) is the busiest time of year so if you are planning to go at this time, make sure you book early or you will miss out! 
Google Maps – Baguio City
11). Baler, Aurora Province 
Baler is home to some of the most impressive beaches in the Philippines including Sabang Beach and the sensational Dicasalarin Cove.
With superb waves constantly lashing the shore from the Pacific Ocean, this is a real haven for those that enjoy surfing and other water sports.
However, there are also some great attractions in Baler and most of these are to be found inland.
Ditumabo Falls is a major highlight and is a pretty easy trek. You will be kept cool along the way by the several water crossings through the fresh cool water, as well as the mist and spray being thrown off by the falls.
Once you reach the falls, you will be rewarded with a cooling dip in the clean, fresh water.
Google Maps – Baler
12). Puerto Galera, Mindoro
Puerto Galera is the perfect island resort town featuring the almost perfectly crescent-shaped stretch of white sand stretching into calm blue waters. 
The coastline is teeming with a variety of natural sea-life and coral which is why it is considered one of the best snorkelling and scuba-diving locations in Asia, if not the world.
You can also head up into the mountains and check out Tamaraw Falls which lies next to Nautical Highway
This unique waterfall runs under a bridge and then cascades its way through man-made pools below and is a great way to cool down on a hot summers day.
Google Maps – Puerto Galera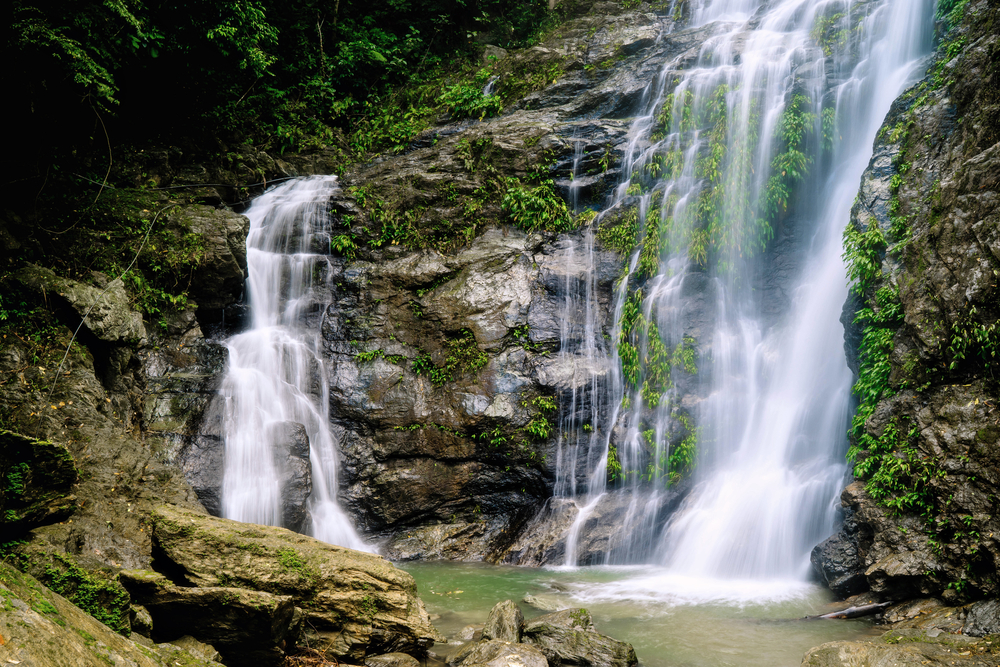 13). Bohol 
The dry summer season is the ideal time to experience the Chocolate Hills when these strange rounded pyramid-like structures turn a dark chocolate brown. 
It is also absolutely imperative to catch a glimpse of the tiny Tarsiers that inhabit the island.  Similar in looks to bush-babies, the Tarsier will melt any heart with their big brown eyes and thick, luscious fur coat.
Then, of course, you have Alona Beach on Panglao Island which is one of the most glorious white sand beaches in the Philippines.
You can also check out Mag-aso Falls if you want to cool down in some fresh mountain water or you can check out the man-made Mahogany Forest or take the cruise along Loboc River which is a great way to spend the day.
Check out my blog on the top 9 places in Bohol for more places to visit.
Google Maps – Bohol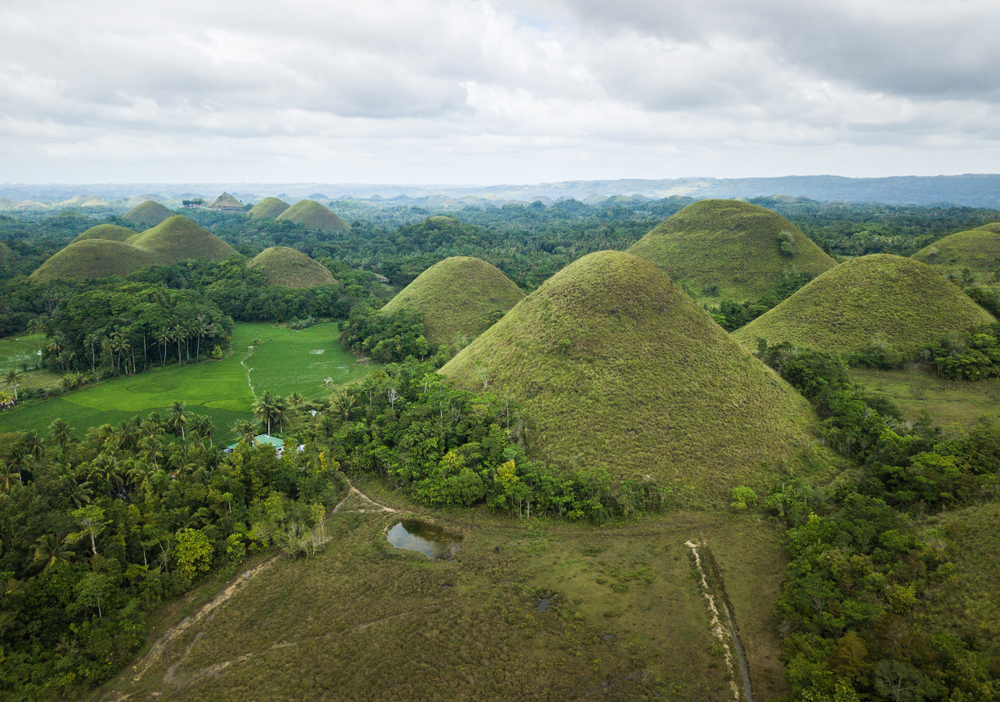 14). Siquijor Island, Siquijor 
Siquijor Island got a mention in my last blog as a great place to visit in the summer. This is because Siquijor is best known for its bounty of waterfalls and this is a major tourist attraction all year-round. 
However, a cool splash in one of the many pools or a shower spray from the falling water is far more satisfying in summer. 
Five of the waterfalls that simply must form part of any itinerary include Cambugahay Falls, Lugnason Falls, La-gaan Falls, Locong Falls and Cangbangag Falls. 
The island is shrouded in mystery and believed to be home to magical shamans, sorcerers and witchcraft with the Enchanted Balete Tree being at the centre of these superstitions.
As per most destinations in the Philippines, the beaches are idyllic and offer some great snorkelling and scuba diving opportunities. Check out my blog on the top 10 places to visit in Siquijor for more ideas.
Google Maps – Siquijor Island
15). Boracay Island, Aklan
Last but not least, I simply need to include the multi-award-winning Boracay Island, as it has what is considered to be one of the best beaches in the world.
The idyllic white sandy shores of Boracay were closed to tourists on April 2018 by President Duerte who after visiting the famous tourist island declared it a cesspool. 
The concern was that the beauty of the island was being destroyed and exploited so the closure was implemented to carry out intensive rehabilitation to prevent the deterioration of the natural beauty and to also prevent health hazards to locals and visitors alike.
The good news is that the resort island was reopened in November 2018 in a limited capacity to tourism while the many problems that the Island faces are being resolved slowly but surely. 
However, if Boracay is on your list of destinations to visit in the Philippines, make sure you book early as there is a long waiting list.
Google Maps – Boracay
So there we have it, my top 15 destinations to visit in the Philippines this summer in 2020. 
Do you have any places that you can recommend to visit in the Philippines? If so, please join the conversation below. We would love to hear your suggestions!
Please also check out the related articles and videos below and please feel free to share this article with family and friends.
Related Articles:
Top 13 Tourist Hotspots In North Luzon
Best 15 Tourist Spots in South Luzon
Best 8 Beaches In The Philippines
More Places in the Philippines:
Related Videos:
Is Siquijor Island Really Haunted? Tour Guide Shows Best Places To Visit | Deztreks
Awesome Party Boat Adventure in El Nido - Check This Out! | Deztreks
MUST WATCH - Top Tourist Spots In Baler Philippines | Deztreks
Swimming With Sea Turtles! Amazing Apo Island | Deztreks
Check This Out! Best Weekend Getaway Near Manila | Deztreks