Top 10 Best Tourist Spots in Siquijor [Ultimate Travel Guide 2019]
Written by Dezza, 7 August 2019.
Are you looking for the best tourist spots on Siquijor Island? Are all the myths and legends about ghosts and supernatural activity actually true? Let's take a look in more detail now.
Continuing on from my last blog on the Top 4 Best Tourist Spots In Central Visayas, in this blog, as promised, we will be looking at the magical and mysterious island of Siquijor.
As mentioned in my previous blog, I recently spent a few days in Dumaguete. While there, I did a number of day tours to some of the best Philippines destinations close to Dumaguete.
Dumaguete is such a central hub in the Central Visayas region with so many places that you can visit either in Negros, Cebu or Bohol.
All of the above places you can easily reach via either road or boat from Dumaguete. However, one of the best places in just about all of the Philippines is the island of Siquijor.
Like the other places mentioned in the region, Siquijor is located just a short boat ride away from Dumaguete.
Therefore, in this blog, we are going to take a quick look at the following best places to visit on this sensational island:
1). Cambugahay Falls
2). Paliton Beach
3). Enchanted Balete Tree
4). San Isidro Labrador Church and Convent
5). Sambulawan Underground River
6). Lala-o Beach
7). Coco Grove Beach Resort
8). Harmony Bay (Secret Beach)
9). Jungle Of Peace Resort
10). Czar's Place
Island Of Fire – Myths And Folklore
During the Spanish colonisation, the Spaniards referred to Siquijor Island as Isla De Fuego. This can be translated to Island of Fire. This title helps to perpetuate the islands supernatural reputation.
As such, the island of Siquijor is rich with myths and folklore which date back to the creation of the island itself.
Legend has it that there was a strong earthquake that violently shook the sea and the earth and after some subterranean thunder and lightning, the island emerged from the Bohol Sea just like a flower blooming in Spring.
There is actually geological evidence to support this legend, especially when you take into consideration the history of neighbouring Camiguin Island which has the most volcanoes per square kilometre out of any island in the world.
As a result, Camiguin Island has a violent history of earthquakes and tidal waves with half the island sinking into the sea after a volcanic eruption in the 1870s.
Increasing Tourism On Siquijor Island
In recent times, Siquijor Island has become popular among tourists and is considered one of the best places in the Philippines. This is in part due to the mystical and mysterious history of this island.
It has long been considered a place of superstition, ghosts and paranormal activity and as a result, there are a number of Filipinos that are frightened to visit the island.
Siquijor is well known for holding festivals that feature healing rituals involving magic-potions made out of the indigenous trees and plants of the island.
There is also a rise in demand for people seeking traditional healing methods that are provided by the popular Balay Pahauli, or "healing huts".
There are sustainable tourism projects being developed around this to help commercialise this traditional practice.
Siquijor Island Here I Come!
I am very fortunate that a friend of mine, Geoff, has a holiday house in San Juan, which is considered the epicentre of Siquijor Island.
He has actually had this holiday house for over 10 years and over this time, we have had numerous discussions about heading there together.
However, trying to align each other's schedules has proven to be difficult. Finally, the opportunity became available for me to visit in June of this year.
I also have another friend, Cliff, who is very fond of Siquijor and visits the island several times a year. We have also had numerous discussions about planning a visit together.
As a matter of fact, we both had a flight booked to visit together in June however, Cliff had to withdraw the week before due to a family emergency. Unfortunately, Geoff was also a late scratching.
Tequila Sunset
Anyway, I did not let this deter me, so I headed down to Siquijor Island to stay at Geoff's holiday house which he is converting into an Airbnb. This was only a recent idea between Geoff and his brother Kel.
As a result, there are a number of improvements being made to the property at the moment. These are just some minor renovations to spruce the place up.
Kel is the full-time caretaker there now and is also overseeing the renovations. The property has now been labelled "Tequila Sunset".
The property is basically made up of three buildings at the moment, with more development planned in the near future.
There is a single storey villa known as "Kirra Beach House" right down by the beach which is very private and is suitable for a family of four to five people.
It has one bedroom and a bunk bed located off the living area. There is a magnificent porch overlooking the ocean which allows you to take in the beautiful afternoon sea breezes.
It also has a fully self-contained kitchen and living area that opens onto the porch where you can enjoy breakfast or dinner by the ocean.
The other two buildings are both double stories. One of them is known as "Tugun Beach House" which is a two-bedroom place on the upper level. This also includes a self-contained kitchen, bathroom and living area.
There is a balcony stretching across the front of the building with absolutely unbelievable sea views and a view overlooking the infinity swimming pool.
The bottom level of this building has a private entertainment area for Geoff and Kel and their family and friends.
The other building also has two levels. These two levels can be rented out either separately or as one depending on the requirements of the customer.
The bottom level is known as "Miami Beach House" and the upper level is known as "Burleigh Beach House".
Burleigh Beach House also has a balcony stretching across the front and the side of the building overlooking the ocean and the infinity swimming pool. It has two double beds, including a kitchen and living/dining area.
Miami Beach House has two double beds and a bunk bed including a kitchen and living/dining area and a nice porch across the front right next to the swimming pool.
Aside from the infinity swimming pool, the property has its own private white sand beach lined with swaying coconut palms making for a glorious tropical setting.
One of the great things about Tequila Sunset AirBnB is that there is a foreign-owned deli right across the road in which there is a wide selection of international food and beverages.
Places To See in Siquijor
Siquijor Island is only about 330 square kilometres and it only takes about two hours to ride around the entire island on a scooter or motorbike via the Siquijor Circumferential Road.
There are plenty of places to stop along the way with some amazing ocean views, beaches, cliffs, rock formations and lush tropical jungle. It really is one of the best Philippines destinations with so much to see and do.
With this in mind, following is the top 10 best tourist spots in Siquijor:
1). Cambugahay Falls
Cambugahay Falls is probably the main attraction of Siquijor Island. This is a majestic triple-level waterfall which is very popular among tourists and locals alike.
With beautiful sulfur blue water, this spectacular looking waterfall has absolutely crystal clear water.
There are two platforms at the lower level with a Tarzan rope for those seeking some adventure and willing to take the plunge. There are also bamboo rafts and rubber rings available.
The trail down to the waterfalls is paved and has about 136 steps and only takes about 5-10 minutes to walk down.
Entry fee: 20 pesos per person.
Tarzan rope: P50 unlimited swings
Google Maps: Cambugahay Falls
2). Paliton Beach
This is widely considered the best beach on Siquijor Island with its near-perfect powdery white sand and beach lined with coconut palms. This is also a marine sanctuary.
One of the main features is a palm tree that is growing out on a 45-degree angle across the beach. People flock to have their photo taken while standing or sitting on the trunk of this palm tree.
This is also a popular place to watch the sunset with dozens of people flocking here around dusk.
There are also a number of canteens clustered up the back of the beach selling snacks and drinks while you chill out watching the sunset.
Entry Fee: Free but there is a donation box where donations are welcomed.
Google Maps: Paliton Beach
3). Enchanted Balete Tree
The Balete tree, a type of fig tree, is common throughout Asia, and are considered some of the oldest species of trees in the world.
Located in Lazi on the way to Cambugahay Falls, the 400-year-old Enchanted Balete tree is the biggest and oldest on the island.
In keeping with the mystical history of Siquijor, it is believed that supernatural beings dwell in the tree with certain rituals being performed inside the hanging roots of the trunk.
Another unique feature of the Balete tree is that there is actually a spring that originates from the base of the tree which flows into a man-made pond below.
Here you can sit on the edge of the pond whilst dangling your feet in the water and allow the fish to come and nibble away at the dry skin on your feet.
Entry fee: P10 per person
Google Maps: Enchanted Balete Tree
4). San Isidro Labrador Church and Convent
This is a 170-year-old church and convent that was built by the Spanish dating back to the 1850s.
The convent is one of the largest convents to have been built in the Philippines during the Spanish colonial period. It is now home to the Siquijor Heritage Museum.
Although I'm not particularly religious, I do enjoy the history and architecture of old buildings such as churches.
The church has been declared a National Cultural Treasure by the National Museum of the Philippines and is marked for World Heritage listing.
This is located on the way to Cambugahay Falls so it's worth a quick stopover on the way and is a popular pilgrimage site for the locals.
Google Maps: San Isidro Labrador Church and Convent
5). Sambulawan Underground River
This underground river was only recently opened with operations only beginning in December of 2018.
If you didn't know where it was located or didn't have some level of local knowledge it would be almost impossible to find it.
The underground river system goes on for more than 1km through spectacular underground rock formations that will leave you breathless.
It is believed that the river provides the headwaters of Cambugahay Falls, mentioned above, which is less than one kilometre away.
Guides are available and are a must for this epic adventure which takes almost 3 hours to complete.
Entry Fee: P250/person (includes lifevest and headlamp). Tipping the guide is optional but highly recommended.
Google Maps: Sambulawan Underground River
6). Lalao Beach
For a local beach, the main beach in Lalao in San Juan is absolutely sensational. With powdery white sand to rival nearby Paliton Beach, the nearby snorkelling is absolutely amazing.
There are a number of accommodation and restaurant options around this area and consequently, this is where the thick of the action mostly occurs.
With views looking westward out toward Apo Island and Dumaguete, Lalao beach has sunsets to rival that of Paliton Beach.
If you are keen on doing some scuba diving, I recommend visiting Sea Pearl Divers and just look for Jay. They are located smack bang in the middle of Lala-o Beach.
Google Maps: Lalao Beach
7). Coco Grove Beach Resort
I didn't actually stay at Coco Grove Beach Resort but Kel took me here for a visit around the complex. It is an absolutely unbelievable resort.
At the moment there are 99 rooms spread over several different sections, each with their own theme from Mediterranean to a more native style.
They are actually in the process of building another 20 luxury rooms which will make this an absolutely massive resort.
With amazing landscaping, beautiful swimming pools, sunset bars and it's very own private white beach (Tubod Beach) and marine sanctuary, this is a place that you should definitely consider visiting if you are in Siquijor.
Even if you don't plan on staying here, I fully recommend a visit to check it out.
They also offer a number of scuba diving tours including a daily trip to Apo Island for the scuba diving enthusiasts who want to experience the marine life beyond Siquijor Island.
Google Maps: Coco Grove Beach Resort
8). Harmony Bay (Secret Beach)
With the entrance to the beach located at the top of a cliff, there are some absolutely amazing rock formations along this section of coast.
The colour of the water here has to be seen to be believed and the views are breathtaking.
There is a lookout area with a nipa hut where you can sit and relax with a picnic and some drinks while taking in the amazing views.
If you are feeling adventurous, there are some wooden steps that take you down to the water to a popular swimming area set among the limestone cliffs and turquoise water.
There is no entry fee but there is also very little signage so it might be difficult to find unless you are with a local or have some level of local knowledge. Please refer to the map below.
Google Maps: Harmony Bay
9). Jungle Of Peace Resort
This is a very unique resort located up in the mountains of San Juan with an absolutely sensational view looking back towards Dumaguete and Apo Island.
This resort is run by an Australian guy, Scott, who has put his own unique twist on the theme of this resort.
If you are looking for somewhere different to have a nice quiet drink and watch the sunset from up high, then this is a great place to visit.
There is also accommodation options available with more rooms being constructed at the time of writing.
Google Maps: Jungle Of Peace Resort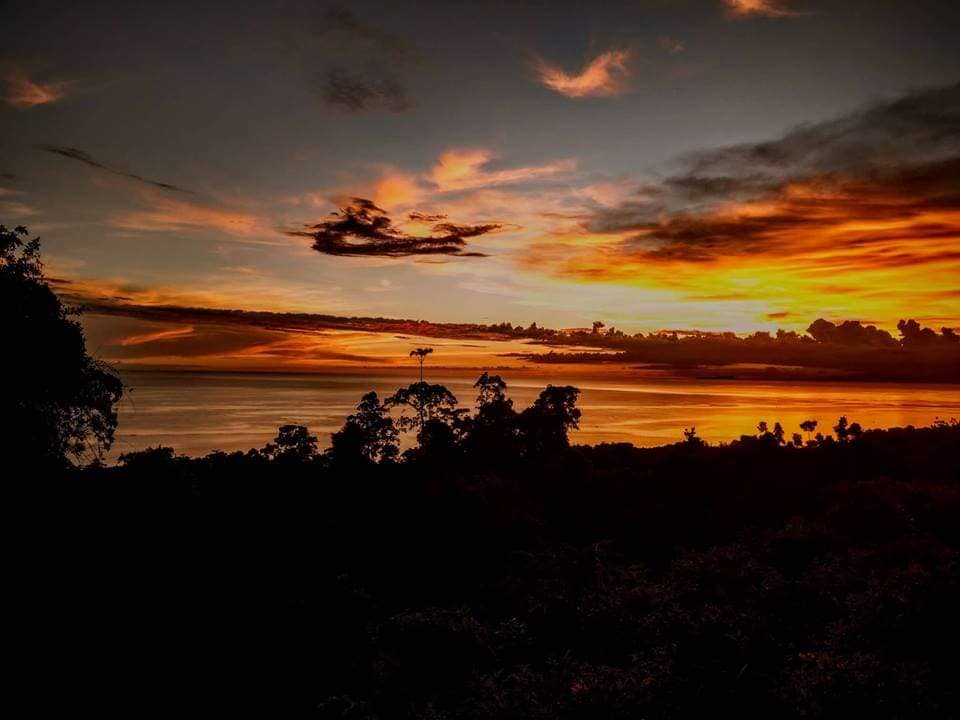 10). Czar's Place
This is a live music venue located in San Juan which is only open on Friday nights. They normally have a couple of live bands performing on the same night and also a DJ.
The main entertainment area is outdoors and is very reminiscent of a music festival but on a smaller scale. They easily have about 200 to 300 people packed inside this place.
If you are looking for a bit of action and some fun on a Friday night, then I fully recommend going to Czar's place.
They serve food and alcohol here and have some bungalows available for accommodation. It is also conveniently located right across the road from Tequila Sunset AirBnB.
Google Maps: Czar's Place
How To Get To Siquijor
To reach Siquijor Island you need to fly to Dumaguete and take a ferry across to the island. If you take the fast ferry (Ocean Jet) it is only about a 45-minute trip and costs P500 back and forth.
The fast ferry makes Siquijor relatively easy to get to and is a lot faster than the other ferry service.
I have been informed by some reliable sources that there is an international airport currently being built on Siquijor Island. However, there is no fixed date for completion at this particular point in time.
How To Get Around Siquijor
One of the best ways to see the island is to hire a scooter/motorbike from P350 per day (excluding petrol).
You can also hire a tricycle and driver for about P1,000 for the day. Although not the most comfortable way to travel, the tricycle drivers also act as tour guides as they know where all the best places to visit are.
Another option, if you have a group of several people, is to hire a multi-cab. The cost for this is about P3,000 for the day which is divided amongst the group.
Apo Island Scuba Tours
If you are planning on staying in Siquijor Island for a few days or more, you also have the option to do a day tour to Apo Island.
Most of these tours are usually centred around scuba diving and snorkelling and depart from some of the resorts and dive centres in Siquijor, most notably Coco Grove.
Please check out the related articles and videos below and please feel free to share this article with family and friends and also join the conversation below!
Related Articles:
Best 9  Places To Visit In Negros
Best 9 Places To Visit In Bohol
Best 8 Places To Visit In Cebu
More Places in the Philippines:
Related Videos:
Is Siquijor Island Really Haunted? Tour Guide Shows Best Places To Visit | Deztreks
Swimming With Sea Turtles! Amazing Apo Island | Deztreks
The Maldives Of The Philippines | Manjuyod Sandbar | Deztreks
Amazing Hot Spring In Dumaguete | Baslay Hot Springs | Deztreks
Unbelievable! Tallest Waterfall In Negros Near Dumaguete Must See | Deztreks