How To Travel To The Philippines And Stay Safe
Written by Dezza, 28 April 2019.
I'm constantly being asked by friends and family whether it's safe to travel to the best places in the Philippines, or even the Philippines in general.
Whether or not these friends are expats that have lived here for an extended period of time, or my family who live in Australia that have never even been to Asia.
I find that "safety" is a really common question for people who plan to travel to, or around, the Philippines alone or with their families. That's quite natural and understandable.
As a matter of fact, that's why you're reading this travel blog on this website. This whole website was created to deal with this very issue – safety by means of avoiding getting lost or ending up somewhere you shouldn't.
Don't Believe Everything You Read
Unfortunately, the Philippines has developed an unfair reputation for being dangerous.
My goal is to break down the myths and the bullshit media hype you read about not just in the Philippines, but other countries and cities around the world also.
I've been asked similar questions about other countries I have travelled to such as Greece, Vietnam, Slovakia, and the UK (I have been to nearly 30 countries at the time of writing).
In every case, the answer is generally the same – "it entirely depends upon you". 
The truth is that no matter where you go in the world, whether it's the Philippines, the US or Turkey, there are safe places and places that aren't so safe.
A lot of the time it comes back to common sense but in this day and age of PC, common sense isn't all that common. But I digress.
What Does It Mean To Be Safe?
Before asking if it is safe to travel to the Philippines, you should stop and ask yourself, what do you really mean by "safe"? What is it that you're actually worried about?
Are you specifically worried about being ripped off logistically and end up paying more because you're a foreigner and don't know your way around?
For example, some of the best Philippines destinations require a plane flight, then a bus ride, then a boat ride, and then a tricycle ride. Do you consider that safe or unsafe? What is your definition of safe in this situation?
Are you worried about health risks, such as infections, food poisoning, or local diseases? Are you worried about being ripped off on exchange rates?
Or are you worried about criminals who might try to take advantage of tourists and try to rob you? Are you worried about someone trying to steal your Facebook login while you're uploading your holiday snaps in an internet cafe?
Or worse still, having someone hack into your phone via the free wifi you're using at a cafe or restaurant because you can't wait to upload your food pics on Instagram?
Are you worried about having your credit card skimmed and then used to make unauthorised purchases on your behalf?
Do you classify these situations as a breach of safety or just bad luck? It doesn't matter because it can happen to anyone, in any country, anytime.
And of course, nobody wants this to happen to them however, there are no guarantees for the weary traveller. These are all potential risks that you need to consider when travelling anywhere in the world, not just the Philippines.
Expect The Unexpected
Most of these risks can be mitigated or minimised with diligent preparation and smart planning. It's all about knowing your destination and what to expect.
And that is the very reason I have created this website, to help you guys to find and enjoy the best places the Philippines has to offer whilst minimising any risks.
Notice how I used the word "minimising" risk? You can't eliminate risk, all you can do is take appropriate action to minimise it.
If you are totally afraid of risk but think you can go anywhere in the world with zero risks, then it might be best if you just stay home.
You will only end up disappointed.
For example, what food is commonly eaten in the area you intend to visit in the Philippines and how is it handled and stored?
Some destinations are more prone to food poisoning depending on where you eat and their local hygiene standards.
In these locations, you should always be careful and selective when it comes to choosing meals. That's just common sense, right?
What about the risk of crime? We often fear crime more in foreign countries because we are out of our comfort zone. As a result, we may feel like we don't have the support of local authorities to protect us.
We may also feel that people in certain countries will dislike us or see us as targets because we are foreigners.
However, in reality, we are just as likely to be robbed in certain parts of our own country as we are in a foreign country and the Philippines is no exception.
Don't Take Your Eyes Off The Beauty
The Philippines truly has some of the most beautiful places in the world. Why forsake visiting these places because of "perceived" risk?
There are award-winning islands like Boracay and Palawan for example, that has consistently been voted as the most beautiful islands in the world.
Then you have world heritage listed sites like the Banaue Rice Terraces and the historic colonial town of Vigan.
There are active volcanoes such as Mt. Mayon and Taal Volcano, there are amazing waterfalls like Pagsanjan Falls and Katibawasan Falls.
You simply have to visit some of these places once in your lifetime and they are all "safe"! I have been to them all myself!
Some of these places are easier to get to than others, and they all come with a certain amount of "risk" on so many levels – food, transport, diseases, theft etc.
However, I should say now that I have been to almost 50 of the 81 provinces in the Philippines and I'm still alive. And I have taken my family on most of these trips and they have survived too.
Ok, my wife is a Filipina which makes things marginally easier, however, if I didn't think it was safe to go I wouldn't go to start with. I would like to live long enough to become a grandfather.
And if I didn't think it was safe for others, the website you're reading right now wouldn't exist.
Filipino folklore says if you really want to fully immerse yourself in the Philippines, you should visit all 81 provinces. Will I visit all 81 provinces? Absolutely no way!
Why? As I mentioned at the beginning of this blog, there are certain places you just don't go to! And of course, you won't even find these places on travel brochures or Google Maps anyway. So why "risk" it?
Play It Safe
If you are planning to visit one, or some, of the many beautiful places in the Philippines, there are a number of ways to minimise your risks.
If you are genuinely concerned about safety in the Philippines, on whatever level, one of the best ways to reduce these risks is by staying at a resort.
By staying at a resort, especially an international style resort, you will find that security is a little more stringent, the food is better and the amenities are "safer".
Most resorts are surrounded by other resorts and are often home to big hotels and restaurants. You could be excused for thinking that you are in your own country.
Furthermore, you should choose a resort or location that is pretty much only a flight and short drive away. That will reduce your "travel risks".
Resort towns are often some of the first places in the Philippines to receive paved roads that connect to airports and other means of transport. The current development at Lio Beach Resort in El Nido is an example of this.
For instance, there are some countries in the world that have only a handful of paved roads yet they all intersect resort towns. Why?
These places are popular and the owners of the hotels and resorts want tourists to have easy access to their establishments.
The local governments want that as well because tourism is good for business. Hence, travel safety is rarely a concern for the vast majority of resort towns.
Worried about food safety? Most of the restaurants you find in resorts are the same standard, if not better, than the restaurants you'll find in your home country.
However, by choosing to eat at the resort restaurant, the only setback is that you may not get to enjoy the authentic taste of the local cuisine, which I highly recommend you do while in the area.
However, if food "safety" is a major concern for you, stick to the resort restaurants. Most of the time, they have a local selection so you aren't missing out completely.
A Few Resort Recommendations
Ok, now that we have cleared the air with regard to safety, if you're still not totally convinced, here a few of the world-class places to visit.
As mentioned earlier, there is no guarantee that you will be totally 100% safe in any of these places. However, the odds are in your favour of being "safe".
The places I have chosen can more or less be reached by a single plane flight and a short drive and/or boat ride.
This minimises any travel or logistical risks aside from things like flight cancellations due to bad weather etc (just like any country in the world).
These are also places that I feel are safe not just for singles or couples, but also families, even those with toddlers.
However, if you do have young children, I recommend that you check on Google at the time of travel just to ensure there are no local concerns before you head off on your journey.
1). Boracay
First on the list is the world-famous Boracay Island. Boracay is only around 4 square miles in size and every inch of it is packed with something to do.
This island paradise has won numerous awards from world-renowned travel publications such as Conde Nast Traveller for its beautiful white sand beach.
Boracay became so popular that the whole island was closed for tourism for six months in 2018.
The reason for this was that the island simply couldn't cope with the number of tourists and it was becoming polluted and the infrastructure was bursting. After the rehabilitation, it is now back bigger and better than ever before.
2). Palawan
Next on the list is Palawan. Palawan has also won awards from Conde Nast Traveller and CNN Travel being voted the most beautiful island in the world.
The two main places you should visit are Coron in the north of the Island and El Nido in the central area. Palawan is actually made up of 1,780 islands and will leave you breathless.
Towering limestone cliffs, uninhabited islands, white sand beaches, lagoons and the best diving and snorkelling the country has to offer.  There are plenty of accommodation options depending on your budget and concern for "safety".
3). Bohol
Now let's take a look at Bohol which I consider to be one of the most unique islands in the Philippines.
Here you will also find white sand beaches, Chocolate Hills, the Tarsier Sanctuary, Loboc River Cruise, the man-made Mahogany forest and historical landmarks like the centuries-old Baclayon Church.
There are a number of world-class resorts that have been developed here in the last several years so there is everything there you could ever want. Panglao Island is the place I recommend to stay.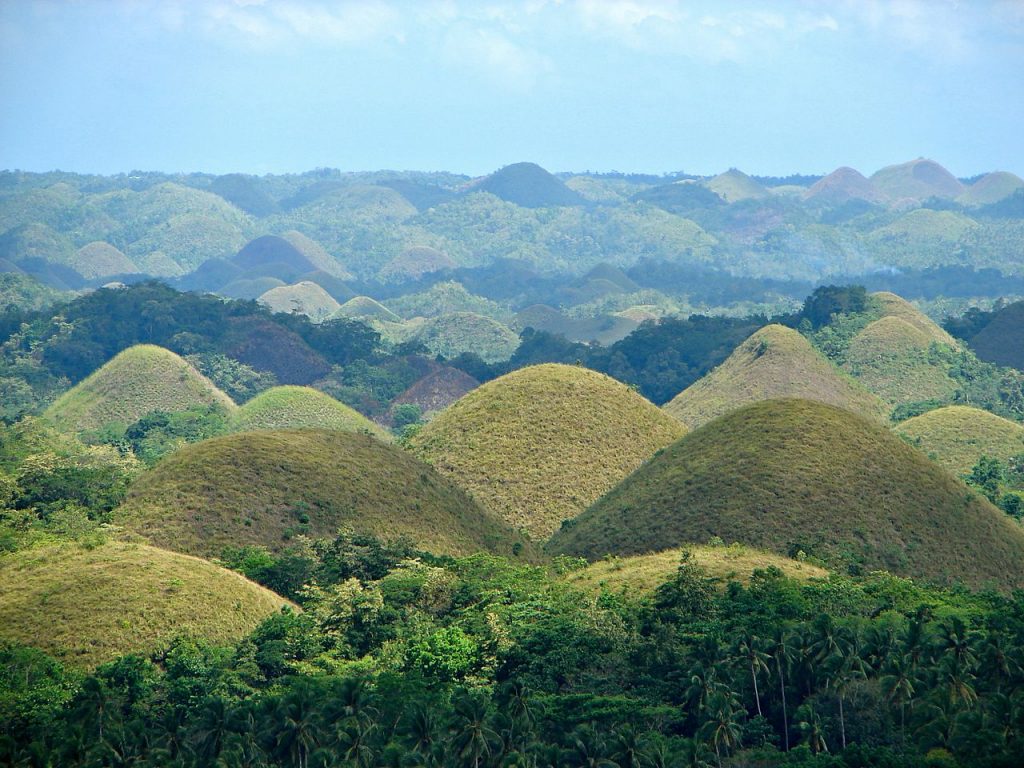 4). Cebu
Located just north of Bohol is the island of Cebu, home to original Philippines capital city. Cebu island has a number of different places to visit but if safety is a concern, I recommend that you stay on Mactan Island.
Here there are a number of world-class resorts like Shangri-La's Mactan Cebu, Movenpick or Plantation Bay.
These resorts have their own beach front, massive swimming pools, water activities, restaurants, beauty treatments and massage – everything you need.  You don't even need to leave the resort. How's that for safety?
5). Laiya
And lastly, if you really wanna play it safe and avoid taking a flight or a boat completely, then you should consider Laiya in Batangas.
Here you will find close to 30 resorts dotted along a 15km stretch of white sand beach that will leave you amazed a place like this exists so close to Manila.
Yes, you can drive here from Manila in about 2.5 hours so in terms of logistical and travel safety, it doesn't get much easier than this. Most of the resorts are 4-5 star level and are all geared towards families.
Therefore, I'm sure you will find something to suit whatever it is you're looking for while enjoying the natural beauty this area has to offer.
Stay "Safe" And Have Fun
It's important to follow some practical safety guidelines no matter where you travel in the Philippines. It's always best to travel with a friend or family member and make sure that other people know where you are.
The Philippines is an incredible destination and everyone should visit it at least once in their lifetime.
The main thing is to relax and have fun but like anywhere, be vigilant with the choices you make while on tour to minimise any potential risks that may occur.
Please like and share this article with friends and family or leave your comments below and please check out my related articles and videos below.
Related Articles:
Top 20 Places To Visit In Palawan
Best 9 Places To Visit in Bohol In 2019
Best 8 Places To Visit in Cebu In 2019
More Places in the Philippines:
Related Videos:
15 Reasons Why The Philippines Is The Best Country In Asia | Deztreks
Awesome Party Boat Adventure in El Nido - Check This Out! | Deztreks
Coron Palawan Voted Best Island In The World! | Deztreks
Check This Out! Best Weekend Getaway Near Manila | Deztreks
Wow! Foreigner Finds Beach Near Manila | Deztreks