The 20 Best Places to Visit in The Philippines in 2020
Written by Dezza, 4 January 2020.
Well, 2020 is finally here, and you may be starting to think about the best holiday destinations to visit for this year, right?
Well, the Philippines is the perfect choice and is full of so many options!
Please read below to learn about some of the best places the Philippines has to offer in 2020 and beyond.
The Philippines has fast risen as a global destination for tourists due to its numerous attractions and range of activities for visitors. 
The Philippines boasts an exotic natural richness that is unparalleled.
There's virtually an activity for every tourist, from whale watching to sunbathing on the beaches to hiking up volcanoes to scuba diving with rare marine creatures. 
Whether you are interested in pristine beaches, awe-inspiring rainforest-covered mountains, or beautiful sunny beaches, the Philippines has it all.
And if you don't have a clear idea of which are the best places to explore, don't worry – I have you covered.
In this article, because it's 2020, we will take a look at the top 20 destinations to explore in the Philippines in 2020. If you are up for it, you can explore them all.
However, picking a handful of destinations from this list will still make your stay in the Philippines more memorable and live in your mind and heart forever.
All of these recommended places aren't necessarily the most common Philippines destinations that everyone has heard of, or indeed, been to, such as Boracay, Palawan and Bohol.
Therefore, I hope these "out of the way" places make your visit even more memorable. So with all that in mind, and in no particular order, let's take a brief look now at the following places:
Kalanggaman Island, Leyte

Caramoan, Camarines Sur
Siquijor Island, Siquijor

Palaui Island, Cagayan Valley

Calaguas Island, Camarines Norte

Romblon Island, Romblon

Catanduanes, Bicol

Langun Gobingob Caves, Samar

Siargao Island, Surigao del Norte

Sagada, Mountain Province

Manjuyod Sandbar, Negros Oriental

Bantayan Island, Cebu

Talikud Island, Davao

Sipalay, Negros Occidental

Malapascua Island, Cebu

Guimaras Island, Panay Gulf

Pagudpud, Ilocos Norte

Hinatuan Enchanted River, Surigao del Sur

Oslob, Cebu

San Vicente, Palawan
1). Kalanggaman Island, Leyte
It is not hard to fall in love with the pristine white sand island that is Kalanggaman Island. 
Located in a protected marine sanctuary, the island is famous for its powdery white sand bar that stretches from both sides of the island. 
The turquoise crystal clear water surrounding the island is typically calm, making for a relaxing time at the beach. 
Being a sanctuary, the island is uninhabited, and, therefore, is easily able to maintain its natural beauty. 
In a country blessed with spectacular islands and beaches, Kalanggaman Island and its beaches do stand out as one of the best places in the Philippines.
Google Maps: Kalanggaman Island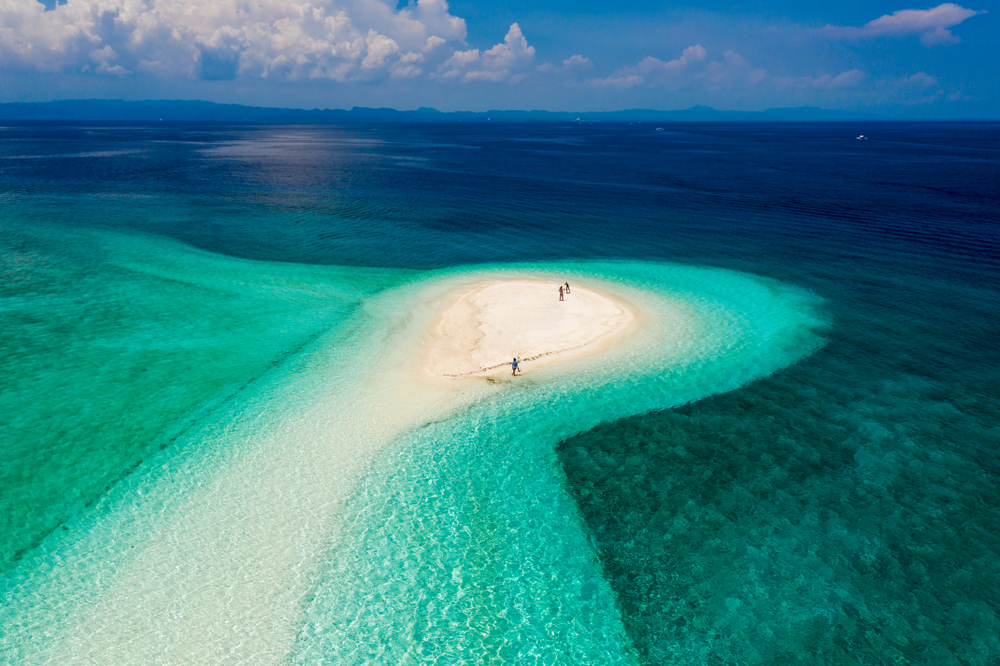 2). Caramoan, Camarines Sur
I have written about Caramoan on a number of occasions because I simply cannot believe such a beautiful place exists, yet barely anyone has heard of it.
Located on the east coast of Southern Luzon, this spectacular tropical paradise sits in the lap of the Pacific Ocean and offers landscape and scenery that can easily rival the best Palawan has offer.
The only real claim to fame for this place is the fact there have been several international Survivor Series shot here. Other than that, when I mention Caramoan to anyone, I get a blank look in return.
Although not the easiest place to get to, it is well and truly worth it. Deserted tropical islands, white sand beaches, limestone cliffs and rock formations, lagoons, sandbars, underground river – this place has it all.
Google Maps: Caramoan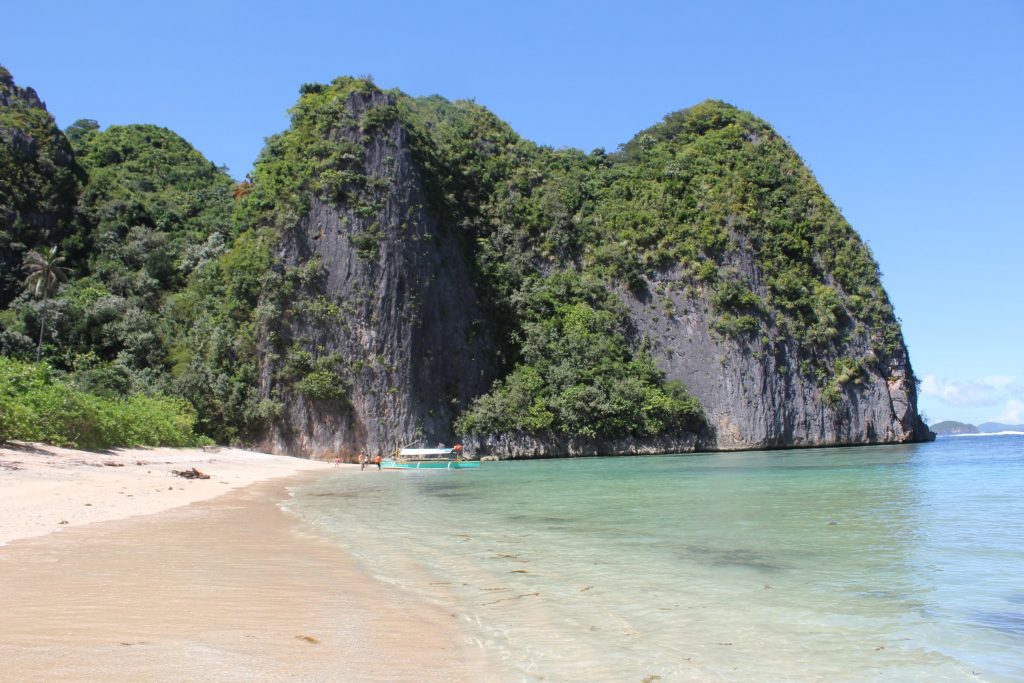 3). Siquijor Island, Siquijor
Siquijor is an island province full of mystery and intrigue and is rapidly becoming one of the most popular tourist destinations in the country.
This tiny island, located a short boat ride from Dumaguete, is only 330 square kilometres in size and only takes about two hours to casually ride around on a motorbike.
It is such a chilled out place with very friendly locals and a fascinating history shrouded in folklore that is rooted in sorcery and witchcraft.
For such a tiny island Siquijor has so much to see and do. Scuba diving is the most popular activity as the island is adorned with some of the best reefs in the country.
Cambugahay Falls is a sensational triple-layer waterfall that is well worth a look along with Paliton Beach, a white-sand stretch of beach lined with coconut palms and sensational sunset views.
Then, of course, there is the Enchanted Balete tree which is a 400-year-old tree that is meant to play host evil spirits and other supernatural phenomena.
On top of that, there is also an underground river that stretches more than 1 km.
Siquijor Island is well worth visiting in 2020, especially during the summer months.
Google Maps: Siquijor Island

4). Palaui Island, Cagayan Valley
As far as exploring unchartered territory goes, Palaui Island is as close as it gets. 
This protected island is a natural park and is covered in lush vegetation, with the rugged terrain on the island remaining intact, and very little human influence on the vast majority of the island. 
While it is a trekking paradise, there are plenty of additional activates you can engage in, including scuba diving and snorkelling, bird watching, fishing, and enjoying the pristine beaches around the island.
You can also check out the historic Cape Engano Lighthouse which dates back to 1892 during the Spanish Colonial period.
This magnificent structure offers 360-degree views of  Dos Hermanas Island and Babuyan Island (Two Sisters) facing to the North, the Pacific Ocean on the West and Engaño Cove on the Eastern side.
Google Maps: Palaui Island
5). Calaguas Islands, Camarines Norte
The group of islands that make up Calaguas is another must-visit destination if you are looking for a relaxing time. Many people are beginning to tout Calaguas as the next Boracay.
Located in a Vinzons, Camarines Norte province, and a mere two-hour boat ride from the mainland, the edges of islands are surrounded with powdery white sand beaches and clear turquoise Pacific Ocean water. 
That said, it is far more renowned among beach enthusiasts than the Long Beach in San Vicente, Palawan.
As such, it is a tad more crowded but also has more facilities to enjoy. It is easy to see why it is being compared to Boracay.
Google Maps: Calaguas Islands
6). Romblon Island, Romblon 
Romblon Island is increasingly attracting more local and international tourists for its exceptional beauty and exciting tourist attraction spots. The island has it all. 
For beach lovers, there are Bonbon, Tiamban, Titanic Beach, Talipasak, and San Pedro Beaches. 
There are also iconic landmarks to explore, including Fort San Andres, Saint Joseph Cathedral, and the Lighthouse Viewpoint. 
For nature lovers, you can explore the Cobrador Island sea turtle sanctuary, the Libtong Falls, and the Kipot River with the slot canyon.
Google Maps: Romblon Island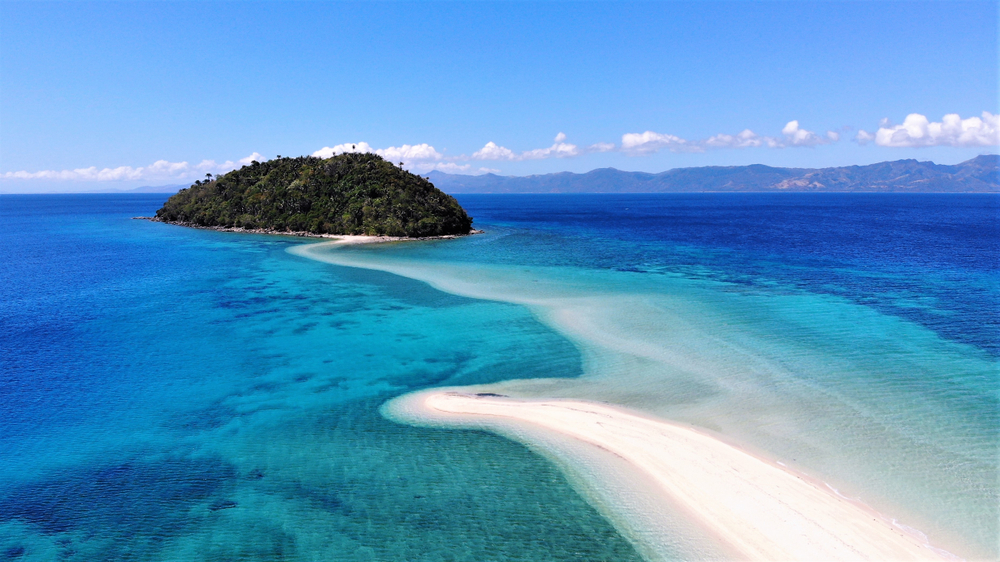 7). Catanduanes, Bicol
Located in the Bicol Region of Luzon, Catanduanes Island is another must-visit destination. It is rich in geologic history and is home to numerous mollusc fossils sites.
What's more, being a tropical island with no pronounced dry spell throughout the year, the island is particularly rich in biodiversity. 
The island is home to hundreds of animal species such as warty pigs, the Philippine brown deer, coot, bittern, rail, and many other unique animals. 
Additionally, the island is home to unique plants like pitcher plants, apitong, rafflesia, and many other plants.
If you are a nature lover in search of an undisturbed tropical paradise, then look no further than Catanduanes.
Google Maps: Catanduanes
8). Langun Gobingob Caves, Samar
Also known as the Calbiga cave, the Langun Gobingob Caves are located in Samar Island Natural Park.
These caves have the distinction of being the biggest cave system in the Philippines. The network consists of 12 caves including Sohoton Caves (in Basey), Linao Cave (in Guiuan), Gobingob, Lurodpon, Langun, and Bitong Mahangin. 
With plenty of caves available to choose from, you have an opportunity to choose a cave that best suits your desires, including fitness levels, time constraints, etc. 
For instance, for easy to access and traverse of the caves, you have the choice of the Linao Cave.
Alternatively, you can explore the whole Langun Gobingob for a fully immersive trekking and cave exploring expedition.
Just make sure you have ample time, and you are fit enough to trek for 8 to 10 hours.
Google Maps: Langun Gobingob Caves
9). Siargao Island, Surigao del Norte
Famous for having one of the best surfing spots on the globe – Cloud 9 – this tear-drop shaped island is a must-visit if you love water sports. 
Siargao Island has a long stretch of white sandy beaches between General Luna and Cloud 9 bordering clear turquoise seas that will leave you absolutely gobsmacked. 
However, it has other features to explore including, Sohoton Caves, coral reefs, and a mangrove wetland. And of course, it is the excellent surfing conditions that make the island a popular destination. 
On the Pacific-facing side of the island, is the Philippine Trench that has some of the deepest water in the world. This allows the wave power to propagate undisturbed until it reaches the rock and coral reefs.
The surfing conditions are particularly exceptional from August all the way to November for those that really wanna test out their surfing skills.
Google Maps: Siargao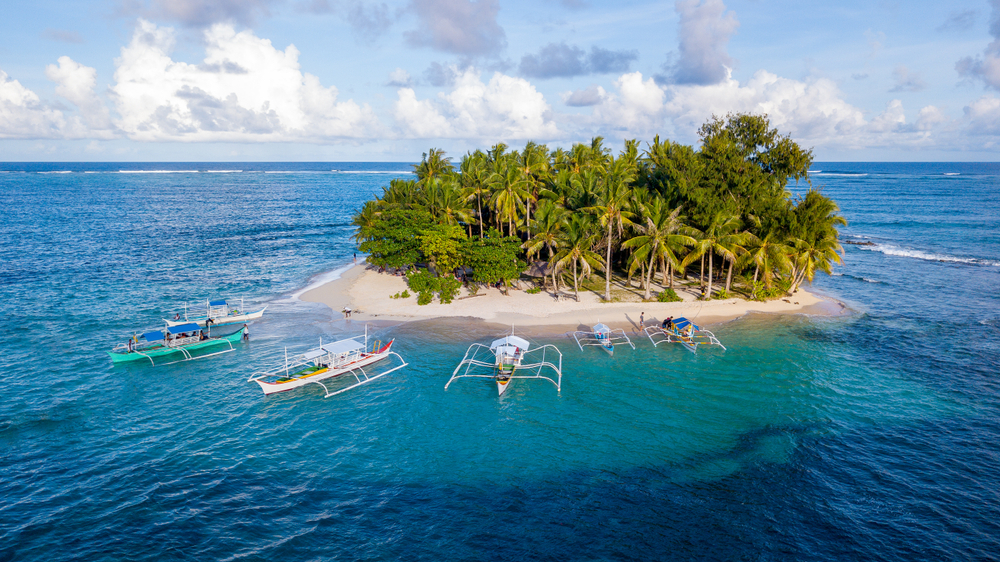 10). Sagada, Mountain Province
Located in Central Cordillera, between the Cordillera and Ilocos ranges, Sagada has some of the most beautiful views that you simply must check out while visiting the Philippines. 
Sagada is a haven for lovers of mountain climbing and trekking, with some options that include Mt. Data, Mt. Kalawitan, Mt. Polis, Mt. Tirad, Mt. Bessang, and Mt. Sisipitan. 
The stunning scenery offered by these treks will leave you in awe with some incredible views of the ancient rice terraces that are carved into the mountainside just about everywhere you look.
There are also some spectacular caves such as Sumaguing and Lumiang caves and also some amazing waterfalls such as Bomod-ok Falls and Pongas Falls.
You can also check out the hanging coffins which are one of the main historical tourist attractions in Sagada and are very unique to the region.
Google Maps: Sagada
11). Manjuyod Sandbar, Negros Oriental
Dubbed "the Maldives of the Philippines", Manjuyod Sandbar is one of the most unique places I have been to in the Philippines.
Located in Bais, a one-hour bus drive away from Dumaguete, the sandbar stretches for several kilometres.
What makes it so spectacular, aside from the white sand and turquoise water, is the cottages on stilts that sit on the sandbar.
You can stay in the cottages overnight or for a half-day but, to be honest, they are very basic and not in great condition but do offer great views and are great for chilling out.
There is also the opportunity to go dolphin watching which is a truly memorable experience as you get up close and personal with dozens of these graceful creatures.
Google Maps: Manjuyod Sandbar
12). Bantayan Island, Cebu
Another pristine island with lots of naturally preserved beaches, Bantayan Island lies off the northern coast of Cebu. 
The main attraction of the island is its tranquillity and natural beauty, especially its beaches (Paradise Beach, Suage Beach, Alice Beach, and Maricaban Beach). 
It is the perfect destination for holidaymakers looking for a relaxing holiday. However, the island has more to offer than just beaches.
You can also explore the Ogtong Cave, Kota Park, the famous Sts. Peter and Paul Church, and Skydiving via Skydive Cebu. Make sure you check this place out before it starts getting too popular!
Google Maps: Bantayan Island
13). Talikud Island, Davao
Of all the places included on this list, this is my personal favourite. Located just off Samal Island in Davao Gulf, Talikud Island can rival any of the best places this country has to offer.
White sandy beaches, clear turquoise waters, marine life diversity, and protected coral sanctuaries combine to create a relaxing haven for visitors and marine ecosystem explorers alike.
Its famous clear blue waters are not only inviting to swim in but calm and soothing also.
This really is one of the most unique islands I have experienced anywhere and is the perfect place to chill and do nothing.
Google Maps: Talikud Island
14). Sipalay, Negros Occidental
One of the real hidden treasures in the Philippines, Sipalay is a must-visit town. 
The town is located on the southern coast of Negros Occidental, and it is filled with natural attractions you won't find in any other part of the country. 
There are a number of white sand beaches including those found at Punta Ballo and Sugar Beach, with even the local Poblacion Beach also boasting lovely near white sand.
The most notable topographical features include the karst limestone islets covered in lush tropical foliage. Other exploration opportunities include exploring rivers, caves, springs, and waterfalls found further inland.
There is also Campamones Bay which is a marine sanctuary, teeming with corals and marine life that have to be seen to be believed. Check out my blog for more places to visit in Sipalay.
Google Maps: Sipalay
15). Malapascua Island, Cebu
With so many island destinations on offer in the Philippines, scuba diving opportunities is inevitable. And Malapascua Island epitomises scuba diving in this country. 
This Island is a scuba diving haven for underwater exploration. 
Malapascua is particularly renowned as one of the best places to spot Thresher Sharks, given that it is one of the few places you are sure to spot this awe-inspiring species.
However, you can still enjoy other activities aside from diving, including Langob Beach, Bounty Beach, the Lighthouse Beach, Cliff Jumping, and much more.
Google Maps: Malapascua Island
16). Guimaras Island, Guimaras
Guimaras Island is located between Panay Island and Negros. This island province has a lot to offer visitors, not least its famous mangoes.
From world-famous beaches such as Natago Beach, Tatlong Pulo Beach, Alubihod Beach, and Guisi Beach, snorkelling spots such as the Ave Maria Islet, through to sheltered swimming caves such as the Buho Ramirez Cave.
You are guaranteed of finding something exciting and memorable on Guimaras Island.
Google Maps: Guimaras Island
17). Pagudpud, Ilocos Norte
Pagudpud is another place that has been compared to Boracay having been labelled "the Boracay of the North". Having been to Saud Beach, I can certainly see why.
The white powdery sand on Saud Beach can easily rival that of Boracay but the best part about it is that there are hardly any tourists.
Aside from Saud Beach, there is also Blue Lagoon (which is actually a bay, not a lagoon) however, the water is a deep green colour like that of a lagoon. The sand here is also almost as good as Boracay.
The area around Blue Lagoon is packed with water activities which include the worlds longest "over the water" zipline, which is almost 2km long and takes you right over Blue Lagoon from a nearby rock cliff.
There are also some other places to visit in Pagudpud including Buntot About Cave, Kabigan Falls, Bangui Windfarm and the Patapat Viaduct which is a 1.3km long coastal bridge which is elevated 31 metres above sea level.
Google Maps: Pagudpud
18). Hinatuan Enchanted River, Surigao del Sur
The Hinatuan Enchanted River is a great option for nature lovers. It wiggles through jungles, and its blue waters are appealing to the eye.
It is said these are clearest waters of any river in the Philippines.
Those with a strong connection with nature will love this destination. The river is home to various fish and turtle species and presents an awesome chance for tourists to take pictures. 
Tourists are also open to activities such as swimming, which is only permitted in specific portions of the river. 
Google Maps: Hinatuan Enchanted River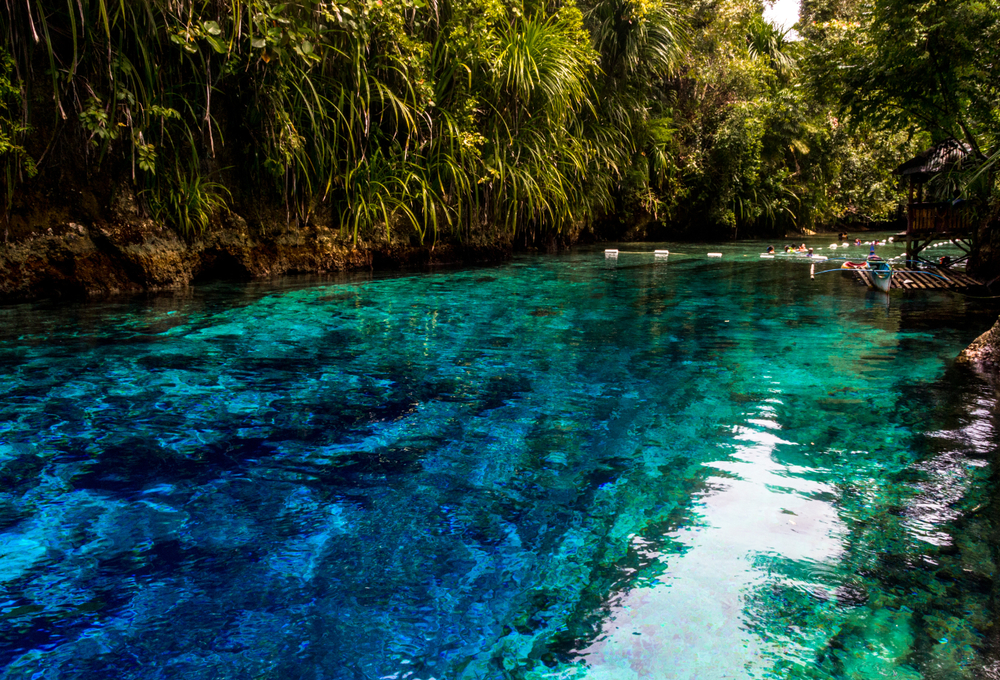 19). Oslob, Cebu
Oslob is most famous for the whale sharks that frequent this coastal town in South East Cebu. People come from all over the world to experience snorkelling with these gentle giants.
There has been a lot of progress in the last couple of years when it comes to protecting the whale sharks and there are now very strict rules in place to ensure no harm is caused to these magnificent creatures of the sea.
However, there is more to Oslob than the whale sharks. One such attraction is the tiny island of Sumilon which is a pristine island with white sand beaches and stunning reefs only about a 30-minute boat ride from Oslob.
There is also Tumalog Falls which is considered one of the best waterfalls in Cebu. This is a stunning waterfall which can be visited as part of a package deal that includes the whale sharks and a visit to Sumilon Island.
Google Maps: Oslob

20). San Vicente, Palawan
I have left San Vicente to last because as mentioned in my intro, I wanted to avoid talking about the more popular places like Palawan however, I need to mention San Vicente for a particular reason as not many people have heard of it.
If you are looking for a relaxing spot that has guaranteed peace and tranquillity, San Vicente in Palawan is largely undeveloped, thereby giving visitors a chance to enjoy natural tropical beaches at their best. 
The 14km Long Beach entails stretches of pristine beaches in their natural state as nature intended it to be; it really is a sight to behold. 
However, as the government implements new infrastructure developments in and around Palawan Island (especially in the northern-Western parts of the island) you can expect property development to inevitability take place. 
Therefore, you must visit this area on the ever-popular Palawan before irreversible changes are made to the pristine scenery.
Google Maps: San Vicente
So there we have it, my top 15 places that you need to check out in the Philippines in 2020. Do you have any places that you can recommend to visit in the Philippines in 2020?
If so, please join the conversation below. We would love to hear your suggestions!
Please also check out the related articles and videos below and please feel free to share this article with family and friends.
Related Articles:
Top 5 Tourist Attractions in Baler
Best 8 Beaches In The Philippines
More Places in the Philippines:
Related Videos:
Is Siquijor Island Really Haunted? Tour Guide Shows Best Places To Visit | Deztreks
Boracay Of The North! Absolutely Amazing Pagudpud | Deztreks
The Maldives Of The Philippines | Manjuyod Sandbar | Deztreks
Check This Out! Best Weekend Getaway Near Manila | Deztreks
World Heritage Listed Place In The Philippines! | Deztreks