Top 15 Places To Visit In Subic Bay
Written by Dezza, 8 November 2020.
Planning on going for a weekend away somewhere in the Philippines? Search queries on Google have been telling me that people are looking for places (mostly beaches) near Manila.
And the top ten search queries on my Deztreks website indicate that people are looking for places to visit close to Manila, or at least in Luzon. Why is this?
At the moment, most people are reluctant to fly anywhere in the Philippines due to all the COVID-19 protocols that are now in place. Under "the new normal", tourists, even locals, are required to submit a negative swab test result before being allowed to fly.
This must be performed through a real-time reverse transcription-polymerase chain reaction (RT-PCR) 48 to 72 hours before they depart from their respective home locations. The PCR test costs range anywhere from P4,500 to P8,000 and come out of your own pocket.
Furthermore, tourists will then be subjected to strict quarantine until the date of travel. To say that this is a massive and costly inconvenience, especially for families, is a huge understatement.
It's no wonder people are searching for places to visit close to Manila. This means they can drive to these places which automatically eliminates the swab test protocols and reduces your costs significantly.
I have written several blogs in the past on the best places to visit near Manila including my updated blog last week to do with the best beaches close to Manila.
You can also check out my blogs on the best places to visit in Northern Luzon and best places to visit in Southern Luzon. All these places are within driving distance from Manila.
One place in Northern Luzon that has been searched for a lot recently on Google is Subic Bay. I have been to Subic Bay on several occasions but have not specifically written a blog about it yet. 
Considering that Subic Bay is only about 170kms from Manila, it ticks all of the boxes we discussed earlier. No swab tests, no extra costs associated with flying, you can drive there from Manila, and there is so much to see and do there – especially for families.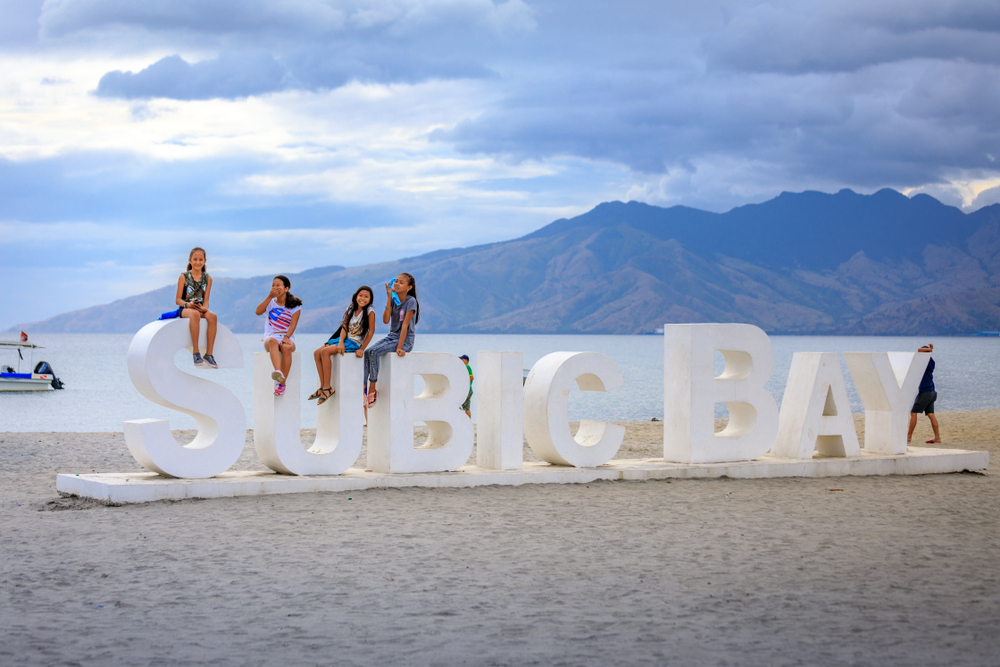 Subic Bay is well known as a naval base, which used to be occupied by the Spanish, and later the Americans. After the naval base was closed, the area attracted significant industrial and commercial interest while becoming better known as the Subic Bay Freeport Zone. 
It goes without saying that Subic Bay has also become one of the most popular Philippines destinations with more than enough places for everyone to experience and enjoy.
From beautiful beaches and amazing scenery, through to activities, you will never forget, here are the top 15 places to visit in Subic Bay. 
1). Ocean Adventure  
Open from 9 am to 6 pm, Ocean Adventure is one of the best places to spend your time. And there is so much to do, listing everything seems almost a little overwhelming. You can watch the open water dolphin show, which usually takes place during the morning.
However, there are other animals to observe as well, such as sea lions. For families that want to really immerse themselves in the experience, why not take a swim with the dolphins? Naturally, great food and drinks are available as you tour around, while the price of admission is very affordable. 
2). Subic Boardwalk
The Subic Boardwalk close to Mansion Garden Hotel is not as glamorous or commercial as other tourist hotspots on this list, but this is half the beauty – the gorgeous simplicity.
For starters, the sunset view from the boardwalk is nothing short of inspiring. And the big boats anchored nearby only makes the experience more memorable.
Sure, there are other things to see, such as the statutes of politicians. And there are more than enough places to sit down and enjoy food or refreshments, like the very popular Pirates Bistro. But if you want to get away from the hustle and bustle, the Subic Boardwalk is where you should go. 
3). Zoobic Safari 
Animal lovers can get up close and personal at the Zoobic Safari. Even though it is the only zoo, expect to cover a lot of ground if you want to see all the attractions. From tigers and elephants to goats and dear can be witnessed throughout the tour.
And if you can get close enough to pet the small and non-dangerous animals, you are more than welcome to do so. If you visit Subic Bay with your kids, they are going to love Zoobic Safari. Chances are you will too. 
4). Subic Spanish Gate 
Do you like to visit historical sights? Then it is recommended to go and see the Subic Spanish Gate.
Shortly after Subic Bay was declared a naval port in 1884, the gate was built and has since been recognized as a historical landmark by the National Historical Commission of the Philippines. Back in the day, the gate was used to access the naval station.  
5). Lighthouse Marina 
The Lighthouse Marina Resort is a heaven away from home. When you need luxury and style on your trip, this is the place to get it. From elegant rooms and a wide range of amenities to exciting activities and amazing food, allow yourself to decompress and just let go.
Either relax or engage your surroundings, the choice belongs to you. You can even host special events here if you want. 
6). Tree Top Adventure 
You are bound to lose a sense of time once you visit Tree Top Adventure. For instance, you can start off with an insightful trek that teaches you many things about survival and the area itself. From there, you might try out the Superman or Silver Surfer rides.
And if you really have buns of steel, you can test the Tree Drop. Excitement, adventure, hours of fun, this is what to expect once you take on the Tree Top Adventure. To top it all off, the staff is famous for their friendly flair and the prices very reasonable. 
7). Capones Island 
Just off the coast on the west of Luzon island, you can visit Capones Island. Known for its rocky formation, coves, crystal blue water and clear white sand, this island will help you to truly understand the meaning of tranquillity.
It is also home to a historical lighthouse if exploring is what you are after. However, there are no shops or luxuries around, so pack whatever you are going to need for the trip. 
8). El Kabayo Falls
Subic Bay is blessed with more than just unforgettable sunsets. It also boasts another beautiful nature scene known as the El Kabayo Falls.
The official sightseeing tour does not take very long, which gives you time to dip in the water or drive around with a 4×4 (if you rent one, of course) right up to the falls. In fact, why not make a day of it with a family picnic? 
9). Dungaree Beach 
Thanks to the rather consistent hot weather in Subic Bay, it is always a good time to go to the beach. More specifically, you should visit Dungaree Beach.
As can be expected with just about every stop, the staff is friendly and the area holds a history connected to the naval base that once operated here. While admission is not free, it is worth the money. 
10). Mt. Balingkilat
Make no mistake, hiking up Mt. Balingkilat is not for everyone. Thus, it will be a challenge for those who are not used to hiking challenging mountain trails. However, for those who are up for the challenge, get ready for an experience of a lifetime.
The scenery once you get up there is breathtaking, to say the least. Just remember to stock up on water beforehand, seeing as only a single water supply is available during the hike.  
11). Camayan Beach Resort
Are you looking for a place to quickly escape to? Well, look no further than Camayan Beach Resort and Hotel. Situated close t0 Ocean Park, Camayan Beach Resort and Hotel is every nature lover's ideal paradise.
Venture to the resort's luscious forests and bluest waters for an unforgettable experience of beach activities, nature exploration, and unmatched family fun.
12). Funtastic Park 
Open every day of the week, and you can never have enough fun at Funtastic Park. More specifically, it is an educational theme park that features a mirror maze, 3D trick art, an optical illusion wall, and even a kid's learning nook.
However, that is just the start of it because the list goes on. And after you treat the whole family, have a picnic and visit the souvenir shop. 
13). Pamulaklakin Forest Trail
Surround yourself with the beauty of nature when you walk through the Pamulaklakin Forest Trail. Popular words to describe it by those who have been there including serene, peaceful, and even majestic.
However, the trail is made more memorable thanks to all the things you will learn about making fire with bamboo, as well as utensils. This knowledge is shared by the villagers that live in the forest. 
14). White Rock Waterpark and Beach Resort
The White Rock Waterpark and Beach Resort serves as a one-stop-vacation destination. Although, you don't want to miss out on all the other great things Subic Bay has to offer.
However, in this particular case, you are looking at 11 hectares of holiday fun and a 300-meter beachfront to provide a magnificent view. Luxury rooms, fun activities, it's all there. Not to mention, it is the perfect place to host group activities or special events. 
15). Magual Bird Park 
We finish off the list with Magual Bird Park, where a wide variety of bird species await. However, it is not just about walking around and learning about birds. The park also features bird shows and these unique animals have a natural stage presence. In fact, the kids can even participate in the shows if they want. 
So, if you are thinking about somewhere that you can simply drive to from Manila, then Subic Bay is definitely somewhere you should consider going. The roads driving up there are great, the scenery is mindblowing and it's less than a 3-hour drive from Manila. What more could you possibly want to break the COVID-19 lockdown?
Please like and share this article with friends and family or if you want to leave any comments or share your experiences about Boracay please, leave your comments below. And please don't forget to check out my related articles below.
Related Articles:
Top 5 Tourist Attractions To Discover in Baler
12 Tourist Hotspots In Batangas
More Places in the Philippines:
Related North Luzon Videos: