Top 14 Beaches Near Manila To Visit In 2021
Written by Dezza, 14 February 2019 [updated 4 November 2020].
I think its fair to say that 2020 has been a year most people would rather forget. COVID-19 has certainly taken our freedom to travel from us, particularly when it comes to air travel.
Most people have become reluctant to travel in the Philippines, particularly by air, due to all the COVID-19 protocols that are in place. Now when it comes to flying just about anywhere within the Philippines under "the new normal", tourists are required to submit a negative swab test result.
This must be performed through a real-time reverse transcription-polymerase chain reaction (RT-PCR) 48 to 72 hours before they depart from their respective home locations. The PCR test costs range anywhere from P4,500 to P8,000 and will be shouldered by the individual.
From there, tourists will then be subjected to strict quarantine until the date they travel. What a hassle huh? Not to mention the extra costs involved with the PCR test, especially for families and groups. For most people, it's easier just to stay home.
However, with 2020 almost behind us, 2021 looks a lot more promising as we all adapt to the new normal and try to get back on with our lives as much as we can. Therefore, based on the hassles associated with flying in the country, it might be time to start planning your travels are little closer to Manila, where travel restrictions under GCQ (General Community Quarantine) are not as strict.
It has been a tough year for everyone, with everyone in some form of lockdown since March. However, summer 2021 isn't that far away! Summer in the Philippines is from February to May and the weather during this time is absolutely sensational. And summer means beaches! However, when most people hear the word "beaches", they think they will need to fly somewhere as they don't normally associate the word "beaches" with Manila.
And while it's true that Manila isn't adorned with nice beaches, there are a number of beautiful beaches near Manila that are actually within driving distance of the metro. Yes, you can actually visit these places within a day which means that you don't even need to stay overnight if you don't want to.
What's awesome about this is that you can simply pack up the car and do a day trip, especially for residents of the country. No swab tests, no flights and no accommodation to worry about.
If you don't have a car, public transport services are quite limited so you may need to look at hiring a car or making other arrangements. However, don't let this stop you! It's time to break the shackles and look forward to 2021, especially summertime!
Most of these places I have recommended below will take anywhere from about 2-3 hours to reach from Manila by car. A couple of these places include a short boat ride, however, most of them are reachable by road from go to whoa.
Get Out There And Enjoy Some Beaches Near Manila in 2021
When I make recommendations to visit somewhere, I like to only recommend places that I have actually been to myself. That way, I can pass on any special tips and tricks and things to look out for, especially for those visiting for the first time.
So with this in mind, I came up with 14 of the best beaches near Manila that I have actually been to. These beaches are in no particular order and you will notice most are in Batangas as that is where the largest concentration of the best beaches near Manila are.
Some require you to have a bit of an adventurous spirit and take a little bit of effort to get to, but you just have to suck it up and get over it if you wanna enjoy the prize. Remember, it's the journey, not the destination that matters!
Please bear in mind that there may be certain travel restrictions for each place and the rules may vary from one place to another. Unfortunately, I'm not totally up to speed with the restrictions in each particular location, so I strongly recommend checking here beforehand or checking with local authorities also.
Anyway, it's time to shake off the COVID-19 blues so here we go with the top 14 beaches near Manila you can visit in the summer of 2021.
1. Masasa Beach (Maricaban, Batangas)
Masasa Beach is located on Maricaban Island is one of the most gorgeous beaches in the Philippines. The white sand beach stretches on for at least one kilometre and is divided by an epic rock formation and cliff.
You do need to take a short boat ride to reach here which only takes just over half an hour from Mabini Port in Batangas (not Batangas Port).
When I first went here in 2014, the beach was totally deserted. We were the only people on the entire beach for the whole day.
It is the perfect spot to go for a swim, do a bit of snorkelling or just lounge around all day long. However, make sure you also explore the nearby Sombrero Island and Caban Island if you have time.
Google Maps: Masasa Beach
Maricaban Island | day trip from Manila for adventurers | Deztreks
2. Laiya Beach (San Juan, Batangas)
Laiya Beach is home to many different types of resorts, which are scattered along the coastline. The sand on these beaches is virtually pure white and offer incredible views.
Each beach is unique in its own way and offers various activities such as jet skiing, banana boating, kayaking, snorkelling and much more.
These beaches are the perfect place to play a game of Frisbee or volleyball with friends. When it comes to beaches near Manila to take your family, it doesn't get much better than here. It is also pet-friendly so you can take dogs here too!
Google Maps: Laiya Beach
Laiya Batangas | best beaches in driving distance of Manila | Deztreks
3. Morong Beach (Morong, Bataan)
There is a number of beaches along the shores of Morong in Bataan. The sands are a nice beige/white colour and surprisingly clean without the usual seaweed and crushed coral and rocks washed up on it.
There are a number of resorts there so you have some options if you plan to just visit for the day. Here you can grab lunch and chill out with a couple of cocktails or take a swim.
You can also do the normal water activities you can do at other beaches, including swimming, sunbathing and so forth. And facing west, the sunsets are epic!
However, it's best to check with each resort online if you are able to just spend the day there as some resorts may not permit you to use the facilities if you aren't actually staying there.
Some of the beaches are also a membership only beaches which means that you either need to be a member or sponsored by a member.
Google Maps: Morong
4. Bagac Beach (Bagac, Bataan)
Bagac is located just north of Mariveles in Bataan and is a newly developing area with tons of potential for development due to the many coves and nice beaches that adorn the area.
There are a few resorts in Bagac that will permit you to visit for the day where you can hire a nipa hut (cottage) and chill out with a picnic and a few drinks.
Just like Morong, the beaches here are surprisingly clean with the sand being a beige/white colour, coming alive in the sunlight.
When I visited there in February of this year (2019), I didn't see one single foreign tourist. To me, this is an indicator that not many foreigners are aware of the beautiful beaches in this area.
Even though the locals are enjoying these beautiful beaches, they are still not very crowded and can make for a relaxing day trip from Manila.
Google Maps: Bagac
Unbelievable Bataan Road Trip - Must Watch! | Deztreks
5. Calayo Beach (Nasugbu, Batangas)
Calayo Beach is still one of my personal favourite beaches. However, it can get a little busy with locals during summer.
It is a great spot to go for long walks, a nice swim or to take in the nice scenery with towering mountains as a backdrop.
The locals are very friendly and you can buy fresh seafood from the local fishermen and have it cooked in some of the beachside cottages that are available.
You can also go island hopping by hiring the boat from a local fisherman. Now that it is summertime, there's no better time than now to visit Calayo Beach.
Google Maps: Calayo Beach
Amazing! Check out this hidden gem driving distance from Manila | Deztreks
6. Lorelie Island (Nasugbu, Batangas)
Lorelie Island (Loren Island) is a must-visit for anyone looking for an amazing beach to go to that is only a couple of hours drive away from Manila.
Calayo Beach (mentioned above) is the gateway to Loralie Island. This has beautiful golden sand and amazing rock formations and cliffs. It is totally uninhabited and very secluded.
If you are really after some privacy, you can find it here. One word of warning – you just need to check with the boatman that the tide is out when you go there.
When it's high tide, the water can get quite rough and washes up onto the beach, causing the beach to disappear. So timing is pretty crucial. However, it is a stunning beach and worth a visit.
Google Maps: Lorelie Island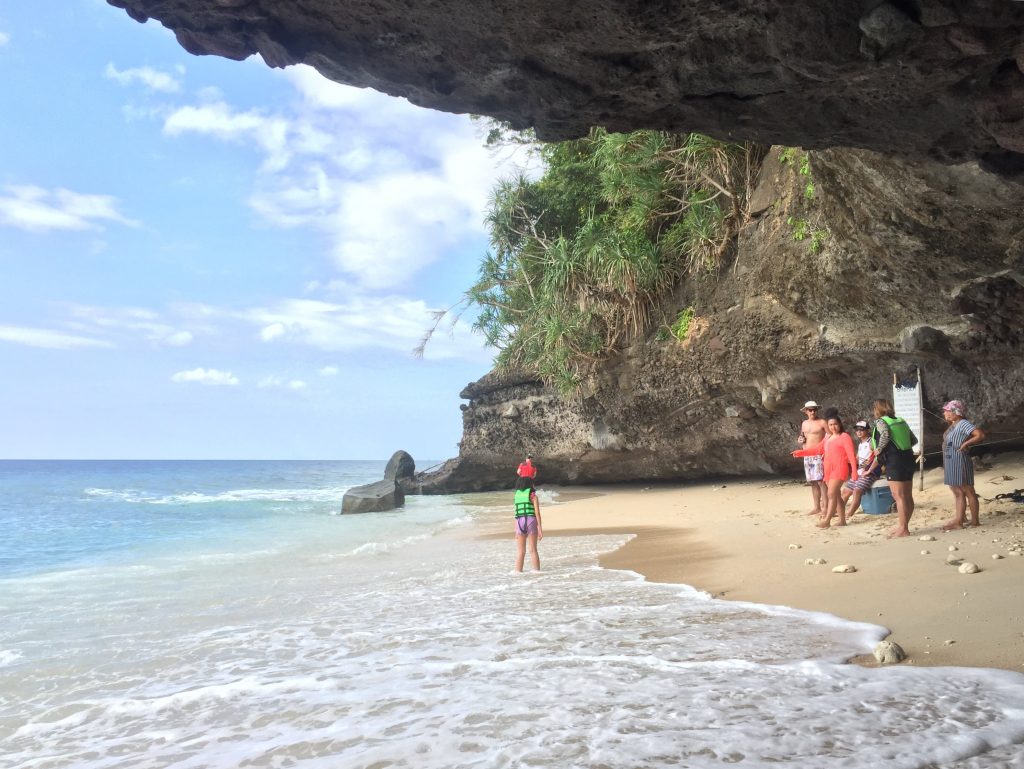 7. Borawan Island (Paglibao, Quezon)
The landscape and rock formations on Borawan Island are spectacular and you can see where the name comes from (a play on words between Boracay and Palawan).
To get to Borawan, you need to take a short boat ride. The beach is very clean and there are many fun things to do in the summer, so now is the perfect time to go.
There are some cottages for hire for the day which allow you some respite from the scorching sun. This place probably takes the longest to reach of all the places on this list.
It can take up to 4 hours to get there so you need a very early start to complete the trip in a day. However, once you see this place, you will agree that it is well worth the effort.
If you did want to extend a bit longer and possibly stay for a night, there is also plenty of island hopping available. If so, you can check out nearby Puting Buhangin and Dampalitan Island.
Google Maps: Borawan Island
8. Bucana Beach (Ternate, Cavite)
Bucana Beach is located just south of Manila and it is one of the most laid back beaches in the country.
This area is very much a local area but there is no reason as a foreigner you can't enjoy this place if you are looking for a day trip from Manila.
There are a handful of resorts here with the best one being Ternate beach resort. You can hire a cottage for the day and chill out with some nice views of Manila Bay.
Despite the sometimes unfair reputation of Cavite, the beaches here are relatively clean.
I'm not quite sure if I would be prepared to swim in the water here, but it still makes for a nice place to relax for a day.
Google Maps: Bucana Beach
Cavite Beach Resorts | Day trip from Manila | Deztreks
9. Matabungkay Beach (Lian, Batangas)
The sand on the beach at Matabungkay is quite amazing. Generally, it takes on the typical grey volcanic colour similar to most of the beaches in the Philippines.
However, when the sun shines on it, it starts to sparkle and glow and takes on a more whitish/golden complexion.
This is a great place for a day trip if you just want to chill out and relax. You will find plenty of floating cottages there which you can hire for the day and relax while floating on the water.
It has been more than 10 years since I have been there so I'm sure that it caters a little to tourism a little more now compared to when I last visited there.
Google Maps: Matabungkay Beach
10. Camayan Beach (Subic Freeport Zone, Zambales)
Located in Zambales, Camayan Beach can get fairly busy, but there are plenty of fun things to do, especially in the summer. The beach here is one of the best in the Subic Bay area.
The sand is very clean and is a nice golden colour. Like many of the beaches on this list, you can hire a cottage for the day right on the beach and relax for the day by Subic Bay.
There are also a number of nice restaurants and cafes in the area if you wish to relax and have lunch, or grab a coffee.
If you have kids, Subic Ocean Adventure is nearby and so is the Zoobic Safari so you have plenty of options for a great day trip.
Google Maps: Camayan Beach
11. Talimaya Beach (Nasugbu, Batangas)
Coming in at number 11 is Talimaya Beach. This is nestled in between Maya Maya and Tali Beach, hence the name.
This area is the ultimate secluded getaway and you can only reach it by boat. However, if you happen to know someone who is a resident of Tali Beach, you can access this by land.
Otherwise, you can take a boat from nearby Wawa port to visit Talimaya and also explore some of the coastline along Nasugbu which offers some spectacular scenery.
There is also the famous Ramos Caves which you can visit next to the popular cliff jump area. Check out my vlog below which gives you a good idea of the area and the things you can do there.
Google Maps: Talimaya Beach (found as Tony Alunan White Beach)
Wow! Wait Until You See This Beach Near Manila | Deztreks
12. Burot Beach (Calatagan, Batangas)
Burot Beach is located in Calatagan, and although it isn't a large beach, it isn't too far from Manila.
The sand is more of a beige colour rather than white and depending what time you get there, the tide takes the water out quite a distance.
This is the beach for you if you want to relax or go for a dip in shallow water, which is ideal for both snorkelling and swimming.
The area is also famous for the Punta de Santiago lighthouse which is a historical landmark and popular tourist attraction.
Google Maps: Burot Beach
13. White Rock Beach (Olongapo, Zambales)
White Rock Beach is located at the White Rock Beach Hotel & Waterpark. You have the option here of doing a day trip or you can actually stay overnight in the accommodation.
The beach here is exclusive to the resort and is relatively private and good for a family getaway.
There are some great swimming pools with plenty of water slides and other pool equipment to keep young kids occupied. Here you can capture some great views of Subic Bay.
You are also able to partake in a number of different water activities including kayaking and jet skiing. With plenty of restaurants and cafes nearby, you can turn this into a great day trip which is not too difficult to get to from Manila.
Google Maps: White Rock Beach
14. Natipuan Beach (Nasugbu, Batangas)
You can only reach Natipuan Beach via Nasugbu Bay if you happen to have a boat (there are plenty available for hire). If so, you can enjoy a couple of hours relaxing in the water.
You can also partake of some other activities from the nearby beach club which include banana boat riding, jet skiing and kayaking.
Asides from the normal beach activities at Natipuan Beach, you can check out Terrazas De Punta Fuego Resort. You will be well impressed.
However, this is a member-only resort which means that you need to be with a member to gain access. You'll then be able to enjoy their private white sand beach as well as the infinity swimming pool, bars and restaurants, and cabanas.
It is a sensational place if you get the chance to visit and is without a doubt the best resort, albeit private, within driving distance from Manila. Check out my vlog below or more details.
Google Maps: Natipuan Cove
Absolute Paradise Only Two Hours from Manila! | Deztreks
Those are our top picks for the Beaches near Manila to visit for summer 2021. If you happen to be overseas and are planning to visit the Philippines, unfortunately at the time of writing, borders are still closed for foreign tourists. Make sure you keep checking in for updates or subscribe to the Deztreks newsletter below for updates.
Please leave your comments below and share this article with friends and family! Also, please don't forget to check out the related articles below.
Related Articles:
Best 8 Beaches To Visit In The Philippines
The Ultimate Weekend Getaway Near Manila
More Places in the Philippines: