Best Places To Visit In The Philippines During Wet Season [Part Two]
Written by Dezza, 5 June 2019.
Welcome to Part 2 of my blog about the best places in the Philippines during the wet season.
We know that a visit to the Philippines tends to be about lazing around on white sandy beaches and going for a dip in turquoise waters.
However, the Philippines has a lot more to offer than beaches. In fact, the rainy season is a great time to experience the diverse life that the Philippines boasts.
In Part 1 we talked about the weather during the wet season and how this can impact your travel plans. If you missed part one you can check it out by clicking here.
In Part 2 of this series about the best places to travel in the Philippines during the wet season, we will now focus on the actual destinations.
Where Are The Best Places to Visit During The Wet Season?
As mentioned in Part 1, there are about 8-9 typhoons that tend to hit the Philippines every year. Unfortunately, most of these tend to strike the island of Luzon which is the Philippines northernmost island.
With Manila being the capital city of the Philippines, and on the island of Luzon, if you are coming from overseas, Manila will more than likely be your first port of call.
Therefore, you might think that in order to avoid flight cancellations that it might be easier to drive somewhere from Manila.
This is fairly logical thinking however, as mentioned in Part 1, most of the typhoons in the Philippines tend to hit Luzon.
This means that if you are planning to outsmart the weather by only driving somewhere to avoid flight delays and cancellations, you may be proven wrong.
We discussed in Part 1 of this series that central and southern Philippines don't get as much typhoon or monsoonal activity compared to the south-west or the northern parts of the country.
Please don't get me wrong here I'm not saying that you shouldn't visit parts of Luzon during the wet season. If you look at Part 1 of this series, I talked about the times of the year and the associated weather patterns.
You can basically go anywhere in this country but you just need to be aware that at certain times of the year there may be challenges with regard to the weather and the climate.
If you are looking to visit some of the top Philippines destinations during the wet season, you just need to be more flexible and plan things more carefully.
However, logic tells me that most of the places that I should recommend you visit during the wet season are in the central and southern parts of the Philippines.
So don't worry, you don't need to spend hours searching the internet for options. All you need to do is take a few minutes to read our ready-prepared guide.
Isn't it great when someone else has already done the hard work for you? So, let's get started!
Davao City
To kick things off, as I mentioned in part 1 of this series, Davao usually only has about one big storm every couple of years. Being located close to the equator the weather is a little more stable and predictable.
Therefore, one of the best places that you can visit is Pearl Farm Beach Resort. This is a very exclusive resort and is in my top 3 places to visit in the Philippines.
In order to get there, you can fly directly from Manila to Davao several times a day and from Davao to Pearl Farm, it is a short boat ride of less than one hour.
Davao has an international airport so depending on where you're coming from you can actually fly direct to Davao and avoid Manila altogether.
I may sound biased but this really is a fantastic place that you should visit if you come to the Philippines. It is one of the most unique resorts that I have experienced in this country.
Once at Pearl Farm, you don't need to worry about travelling anywhere as the resort has everything you need, so the weather is virtually a non-issue.
Google Maps: Pearl Farm Beach Resort
Antique
Antique is a quiet unassuming province located on the western coast of Panay Island.
Like a number of provinces in the Philippines, it is blessed with unbelievable natural beauty. There are great beaches, rivers, waterfalls and amazing sunsets.
There is no shortage of activities including river tubing in the Tibiao River, hiking to Bugtong Bato Falls or visiting the Bugang River, which is claimed to be the cleanest river in the Philippines.
You can also go hiking in some sensational rice terraces and even have a sleep in a treehouse. However, what really makes Antique one of the most unique places in the Philippines is taking a kawa hot bath.
Here you actually get to experience sitting in a huge metal pot over an actual open fire. Yes, that's right! What a way to experience the wet season here in the Philippines!
There are a few ways in which you can reach Antique from Manila including flying to Kalibo or Iloilo, and then taking land transport to reach the various destinations in Antique.
If you have enough time and are savvy enough, you can tie this in with a trip to Boracay using Caticlan or Kalibo as your airport.
Google Maps: Antique
Siquijor Island
While this location may be steeped in magical stories there is so much more to this stunning area than myths and legends.
Rainy season doesn't tend to put any stop to the sheer beauty, enjoyment and tranquillity that you can experience here.
In fact, with several gorgeous beaches such as Salagdoong Beach and Larena Beach, you will be in the right place for when the rain stops and that glorious sunshine shows itself!
If you are into a bit of adventure there is also some amazing waterfalls and caves that will leave you spellbound.
With the main beaches facing west, you also get some amazing sunsets, particularly with the cloud formations associated with the wet season.
You can't fly direct to Siquijor, although they are building an international airport at the moment. At the time of writing, I believe that it will be ready for use in about 12 months time (mid-late 2020).
To get to Siquijor you need to fly to Dumaguete. You can reach Dumaguete with direct flights from Manila. From there it is a ferry ride on calm waters of less than 1 hour to reach Siquijor.
Google Maps: Siquijor Island
Bohol
Located in the central Visayas, Bohol is one of those places that doesn't seem to cop any disastrous weather during the wet season.
Bohol really is one of the best places in the Philippines and one of my personal favourites.
There is so much to see and do they and you can travel everywhere by land which means that even if there is bad weather, it doesn't disrupt your travel plans too much.
This is also a great place to take the family as there is a lot of activities you can do as a family.
There is everything from lazing around in a fully exclusive resort in which you don't have to leave right through to Chocolate Hills and the Tarsier Sanctuary.
The best place to stay in Bohol is Panglao Island. You can actually fly direct to Panglao island from Manila or you can also fly into Tagbilaran.
Google Maps: Panglao Island

Siargao Island
Siargao is an island that is an up-and-coming tourist destination which is set to become the next Boracay.
Located at the northeast tip of Mindanao, there is very little rain all year round making it a great place to visit during the wet season.
Although Siargao is mostly associated with surfing due to the famous "cloud 9" hollow tube wave, surfing is not the only activity this place has.
There are a number of neighbouring islets and islands with plenty of white sandy beaches dotting the coastline and a succession of reefs which is what makes it so popular for surfing.
However, with so many beautiful neighbouring islands and sandbars, island hopping is one of the most popular activities.
There are a number of accommodation options that a starting to appear however because it is increasing in popularity it is important to book early.
The most popular time to surf here is during the monsoon season, or habagat,  which is predominantly from August to November. During this time the winds come from offshore.
You can fly to Siargao from either Manila or Cebu.
Google Maps: Siargao Island
Cebu
One of the best destinations to visit during the wet season is Cebu. In fact, it's one of those cities that hardly ever seems to get any rain!
I have been there several times at different times of the year and not once has it rained while I was there.
You can enjoy the sights of Cebu City, the tastes of the locality and a great spot of shopping without needing to make extensive travel plans.
One of the best things about Cebu is Mactan Island (this is where the actual airport is located).
Mactan Airport is also an international airport which means that you can fly directly into Cebu without the need to go to Manila depending where you are flying in from.
I have mentioned this in a previous blog in which Mactan Island consists of a number of world-class resorts that are great for families.
These resorts have everything that you could ever need including white sand beaches, swimming pools, restaurants and bars, children's play areas, massage and spa services, and the list goes on.
You do not even need to leave the resort! This means that no matter how bad the weather gets you to have the safety of the resort to protect you.
Google Maps: Mactan Island

Cagayan De Oro
People tend to view the rainy season as a negative thing, however, it actually comes with a few positives. For example, the rivers come to life once the rainy season gets underway.
This means it is a great time of year for adrenaline lovers to have their fill of excitement.
The Cagayan de Oro river is the centrepiece of the white water rafting experience with several tour groups offering a variety of packages for all the thrillseekers out there.
Cagayan de Oro provides white water rafting experiences that are memorable and fun, although, of course, this option is not for the faint-hearted!
You can fly direct to Cagayan de Oro city from Manila, Cebu or Davao which gives a number of travel options should flights be delayed cancelled.
Google Maps: Cagayan De Oro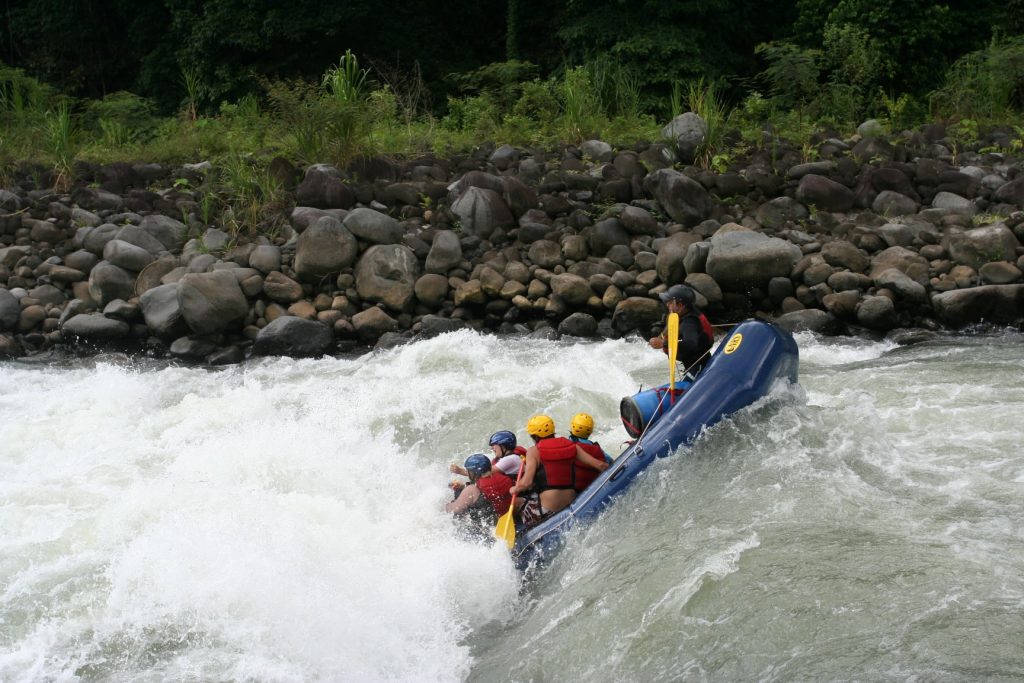 Camiguin Island
Visiting the Philippines in the rainy season will actually provide you with the chance to do something that isn't available during other seasons; The Lanzones Festival.
Held in October, this combination of colourful street displays and sweet lanzones (a local fruit) is a great reason to visit Camiguin Island.
In fact, you will most likely be so impressed by the show that you will forget all about what season it is!
Plus, there are gorgeous hot springs and a popular white sand bar just in case you want even more excitement!
If you are planning to visit Cagayan De Oro, you can also tie in your visit to Camiguin Island without the need to book extra flights.
You can also reach Camiguin via Butuan in which there are daily flights from Manila.
Google Maps: Camiguin Island
Boracay Island
We know you may be thinking that the beach isn't the ideal place during the wet season. However, in some ways, there isn't a better time to visit!
Instead of fighting the crowds and trying to find a spot to put your towel down, the peaceful vibe and chilled out atmosphere is hard to beat.
Remember, just because it's the rainy season doesn't mean that it's going to rain every moment that you are there!
In fact, the weather is normally sunny but when it does rain for a while, it's time to do a spot of shopping or simply take cover and enjoy a good cup of coffee or grab a meal.
Being one of the most popular routes in the Philippines there are several flights daily from Manila to Caticlan which is the airport closest to Boracay.
However, depending on where you are coming from, there are also international flights into Kalibo airport which leaves you with about a 2-hour bus ride to the seaport in which you can access Boracay.
Google Maps: Boracay Island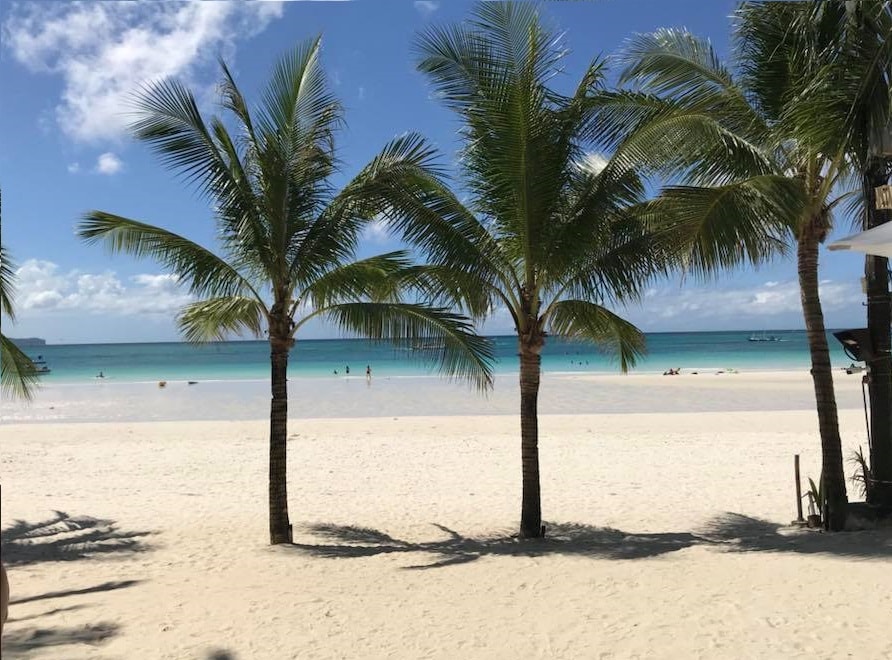 Pagsanjan Falls
The best time to visit waterfalls is during the wet season. It is during this time that waterfalls are at full strength. this allows you to catch the waterfalls in all their natural splendour.
Some waterfalls are harder to get to than others and of course, the wet season presents some challenges when trying to hike along any trails to get to a waterfall.
This being the case, Pagsanjan Falls (also known as Cavinti Falls) in Laguna if perfect and for plenty of good reasons.
One of the main advantages is that you can drive right to the pickup point in which you jump on a boat and take a 2 hour to ride along the river right up to the actual waterfall.
There is actually no hiding involved at all!
This actually makes it a perfect waterfall to visit during the wet season because all you need to do is drive from Manila.
As mentioned in my introduction, you might be a bit unlucky in that extremely bad weather hits when you're on the road, but this is very unlikely.
And of course, you will get wet during the boat ride whilst passing the rapids, and also if you choose to go right up to the waterfall. So if it does rain, it's not like you're going to get any wetter then you probably would anyway.
Being only a 2.5-hour drive from Manila you can easily do Pagsanjan Falls in a day trip, so this is definitely a place to put on your to-do list during the wet season in the Philippines.
Google Maps: Pagsanjan Falls
Are you now feeling much more prepared for your trip to the Philippines during the wet season?  
Sure, the rainy season may be coming but the beauty, excitement and sheer enchantment of the Philippines aren't going anywhere!
Now that you know a few of the best places to visit during the wet season it's time to pack your bags and let the fun begin!
Please leave your comments below and share this article with friends and family! Also, please don't forget to check out the related articles below.
Related Articles:
Best 9 Places To Visit In Bohol
Best 8 Places To Visit In Cebu
Best 9 Places To Visit In Negros
More Places in the Philippines:
Related Videos:
Awesome Party Boat Adventure in El Nido - Check This Out! | Deztreks
Coron Palawan Voted Best Island In The World! | Deztreks
Is Siquijor Island Really Haunted? Tour Guide Shows Best Places To Visit | Deztreks
Swimming With Sea Turtles! Amazing Apo Island | Deztreks
Pagsanjan Falls | Philippines most famous waterfall | Deztreks