Deztreks' Top 10 Scuba Diving Sites In Palawan In 2020
Written by Dezza, 13 November 2019.
Do you love scuba diving and enjoy exploring new underwater places? Palawan is regarded as one of the best scuba diving locations in the world. Keep on reading for my top 10 places for scuba diving in Palawan in 2020.
For roughly 80 years, scuba diving equipment has offered human beings the chance to get up close and personal with the wild, otherworldly landscape hidden beneath the ocean.
Diving into the sea and getting a first-hand look at the huge variety of sea-creatures sharing our world is an awe-inspiring, transformative experience.
There are so many different kinds of recreation that offer excitement and thrills, but diving stands alone in its ability to alter your perspective and expand your horizons.
Palawan As A Diving Destination
The Palawan Islands consist of nearly 2,000 islands and islets clustered around the main island of Palawan.
Making up about a quarter of the Philippines' islands, the Palawan group stretches between the Sulu Sea and the South China Sea.
Most of the islands in the Palawan group are uninhabited, and their clear waters and abundant sea life make them a diving attraction that is hard to describe.
Furthermore, most of the islands are covered by more than 50% forest as you can see from the photo of Pinagbuyutan Island below, and the group of islands includes more than 11,000 kilometres of coral reef.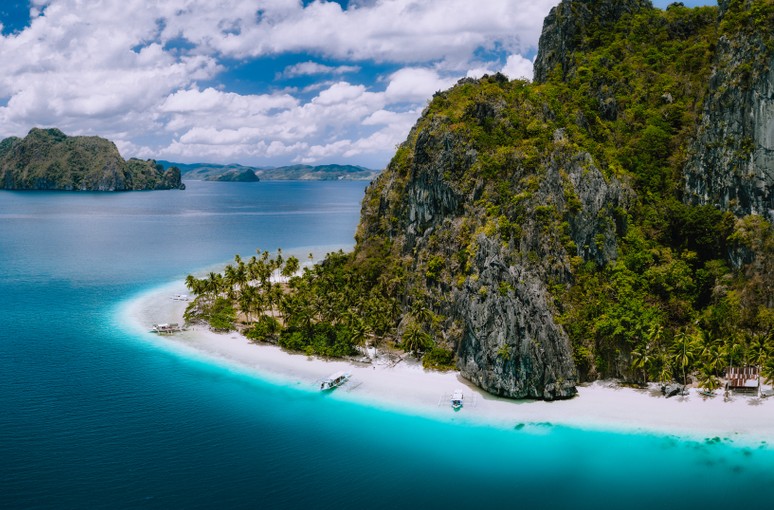 Diving activity in Palawan is centred mainly on Bacuit Bay at El Nido, which contains dozens of islands and islets and is sensational.
I have been Bacuit Bay a few times and it is so unique it is hard to actually describe. You just have to go there and experience it for yourself.
This is easily one of the best places in the Philippines not just for scuba diving, but any type of sightseeing or water-based activities.
This is the perfect base from which to explore Palawan's world-class diving opportunities: dozens of lagoons, crystal blue waters, diverse marine life, and pristine beaches.
Bacuit Bay is rapidly becoming one of the most popular destinations in the world for divers.
Palawan's History
Palawan has a rich multicultural heritage with roughly 50 different languages being spoken in the region today. The first settlers arrived in the islands in the 12th and 13th centuries, principally from Indonesia.
Travellers from Borneo introduced Islam and turned Palawan into a trading centre; soon the area was frequented by Arabs, Hindus, Chinese, and Japanese.
With the rest of the Philippines, Palawan fell into Spanish hands during the colonial period starting in the 16th century.
This was then passed to the United States at the end of the 19th century, and during World War II came the  Japanese occupiers.
So just like the rest of the Philippines, Palawan has a very colourful history.
Palawan Attractions
Palawan offers particularly vibrant and healthy coral reefs near El Nido, Coron Island, and Puerto Princesa. The reefs chockers with colourful fish including angelfish, groupers, parrotfish, surgeonfish, yellowtail snapper, and lunar fusilier.
Out on the sandy bottoms, blacktip sharks and blue-spotted ribbontail rays cruise from reef to reef. More exceptional aquatic inhabitants include green sea turtles, nudibranchs, eels, and crabs.
A truly astonishing variety of marine life can be seen at the glorious Tubbataha Reef. These waters enjoy strong currents that attract larger creatures including manta rays and whale sharks (more on that later).
This is also an attractive habitat for white tip and grey reef sharks, with occasional tiger sharks and hammerheads visiting as well. This is a great area for spotting game fish, including tuna, mackerel, trevally, and eagle rays.
Marine mammals (whales and dolphins) are easily spottable from the surface.
Discover Scuba Diving In Palawan
Palawan is a globally-recognised centre for great scuba diving, but this is not a diving destination that's exclusively for experienced divers.
If you've always wondered what scuba diving is like, El Nido, Palawan is the perfect place to learn and is right up there in as one of the best Philippines destinations for scuba diving.
What's better than having your very first diving adventures surrounded by some of the world's most amazing marine life!
Although I'm not the most experienced diver, I have a number of friends who are and they have helped me to compile a list of the 10 best scuba diving spots in all of Palawan.
So now that I have have taken the opportunity to whet your appetite for the best dive spots in Palawan, let's take a look at Palawan's 10 best diving spots (in no particular order):
1). Tubbataha Reef, Cagayancillo
The Tubbataha Reef is one of the crown jewels in Palawan's diving crown. It is the centrepiece of Cagayancillo's Natural Marine Park, and the reef earned recognition in 1993 as a UNESCO World Heritage Site.
Its diverse marine life makes Tubbataha Reef a perennially popular destination, so much so that it was recently acclaimed as one of the world's best dive sites by CNN Travel.
2). Kalambuyan Reef, Coron Bay
Klambuyan Reef offers some of the world's most vibrant and biodiverse coral biomes. Strong currents in the summer amplify the area's variety of sea life even further.
Kalambuyan is easily accessible via a 30-minute boat ride from the NW Okikawa Maru.
3). Dilumacad Tunnel, El Nido
Offering a once-in-a-lifetime experience for skilled divers, this 35-metre long tunnel was discovered in 1990. The entrance, at 12 metres, is currently marked by a memorial plaque.
The tunnel narrows gradually along its length, with a sandy bottom throughout and several ceiling holes.
4). Bulawit Bay, Linapacan
Bulawit Bay, situated on the pier coast, offers shallow waters and a seabed covered in sea-grass. This makes it an excellent site for finding starfish, but the surrounding waters have no shortage of other wonderful creatures.
Pipefish, batfish, ribbon fish, eels, and many others are all common here.
5). The Wall, Roxas
Lying just 20 minutes away from the main island, this is an accommodating site that welcomes both new and experienced divers.
The deeper parts of the site are highly attractive for underwater photographers, and new species are regularly uncovered in the depths.
6). Cuttlefish Shawl, Puerto Princesa
This is a challenging site for more experienced divers who are capable of handling significant depths. The local waters are famed for sea turtles, barracuda, and of course, the cuttlefish that give the reef its name.
The assistance of a local guide is strongly recommended when diving here.
7). Tagbao Islands, El Nido
Professionals and amateurs alike hail El Nido as home to some of the world's finest diving sites thanks to the region's plentiful coral reefs and thriving sea life.
The Tagbao islands are particularly notable as a perfect site for novice divers thanks to their shallow waters.
Lying to the northwest of Miniloc, the two Tagboa islands are home to three expansive coral reefs that are well worth an underwater visit.
8). Morazan Maru, Coron
The Morazan Maru is an impressive wreck with a lengthy history above and below the water. Originally built in 1907, it was commandeered by the British Royal Navy in WWI and then captured by the Japanese in WWII.
Today, the wreck sits 330 feet beneath the surface. Its accessible engine room with intact boilers is a particular attraction. This ship is an excellent dive for anyone with a PADI wreck diver certification.
9). Mares Rock, Puerto Princesa
Situated on a long slope at the mouth of Puerto Princesa Bay, the reefs of Mares Rock go all the way down to 35 metres at their deep end. The waters above typical teem with big fish, including jackfish, tuna, barracuda, and turtles.
On the seabed, divers and photographers can find a thriving ecosystem that includes octopus, crustaceans, nudibranch, and more.
10). El Nido To Coron Seafari
I have left the best to last. If you really want to experience the ultimate in diving in Palawan, then there is no better way to do this than via a "seafari".
My friends at Submariner Dive Resort offer a four-day three-night trip that takes in a wide range of Northern Palawan's best dive sites, including both pristine coral reefs and shipwrecks from World War II.
This is the perfect trip for a group of divers and should not be missed if you're a serious diver.
So there we have it, Palawan's 10 best dive sites. Do you have any dives places that you can recommend not just in Palawan but anywhere in the Philippines?
If so, please join the conversation below. We would love to hear your suggestions!
Please check out the related articles and videos below and please feel free to share this article with family and friends.
Related Articles:
Best Scuba Diving Resort In The Philippines
Best 20 Places To Visit In Palawan
Safety Tips For Travelling In The Philippines
More Places in the Philippines:
Related Videos:
El Nido Palawan Incredible Diving Experience | Deztreks
Best Dive Resort In Palawan! Submariner Diving Resort | Deztreks
Awesome Party Boat Adventure in El Nido - Check This Out! | Deztreks
Must watch! EPIC El Nido sunset | Deztreks
Check This Out! Epic Surf Beach In Palawan | Deztreks