Philippines Re-Opened Tourist Destinations  
Written by Dezza,  6 December 2020.
Welcome to my last blog for 2020. And what a year it has been! As far as travel and tourism are concerned, it has been a disaster but there is a light at the end of the tunnel.
As I mentioned in my blog on September 30, the Tourism Secretary of the Philippines government, Bernadette Romula-Puyat, announced on Thursday October, 1st that the opening of Boracay Island (the top tourist destination in the Philippines) heralded the gradual and safe revival of the tourism industry amid the Covid-19 pandemic. 
She said the opening of the world-renowned island marked the first step towards domestic recovery of the tourism industry all over the rest of the country. She added that it has given a glimmer of hope for the revival of the tourism industry, especially for individuals who count on tourism for their survival.
Since then a number of local tourist destinations in addition to Boracay Island have recently reopened to welcome back visitors including El Nido and IIocos Norte. As the end of the year approaches other tourist attractions have recently followed suit by easing their travel restrictions for visitors.
The Tourism Secretary promised that the government have the necessary health and safety protocols in place to ensure the safety and well being of tourists and residents alike.
She advised that no reported coronavirus cases had been reported on the island recently and stressed that the DOT (Department of Tourism) always regards the safety and well being of all people as top priority. 
DOT-accredited accommodation establishments will have designated health and safety officers on duty to call the COVID hotline if any guest should exhibit COVID-19 symptoms.
Essential medical equipment was handed over by the DOT to certain destinations to ensure they are ready and equipped to handle any COVID-related concerns.
For future travel to some of the best places in the Philippines, here are some local tourist destinations that have recently reopened to welcome visitors:
1). Boracay Island
The Inter-Agency Task Force of Boracay now allows visitors under a GCQ (General Community Quarantine) classification to enter Boracay from outside regions. According to Puyat of the Department of Tourism the age restriction has also been relaxed to allow visitors above 60 years old and below 21 to visit the island. 
Only travellers who have had a negative RT-PCR test result within 48 hours before travelling will be allowed to enter through Caticlan's Godofredo P. Ramos Airport. 
Visitors should also provide online proof of confirmed accommodation in a DOT-accredited establishment, round trip air tickets, and a negative test result for approval by the Aklan Provincial Government at http://aklan.gov.ph. Visitors will be issued with a unique personal QR code that should be provided for monitoring purposes at the airport.
The chief of tourism has stressed that, while enhanced health and safety protocols have been implemented at entry points, accommodation establishments, and for recreational activities, the success of the reopening of Boracay will ultimately depend on one major factor: the cooperation and compliance of guests to the island. 
The DOT urged visitors to be responsible travellers by following the guidelines set out and respect the rules of health and safety. She urged visitors to never become too complacent and adhere to the minimum health and safety protocols by wearing masks where possible, even on vacation.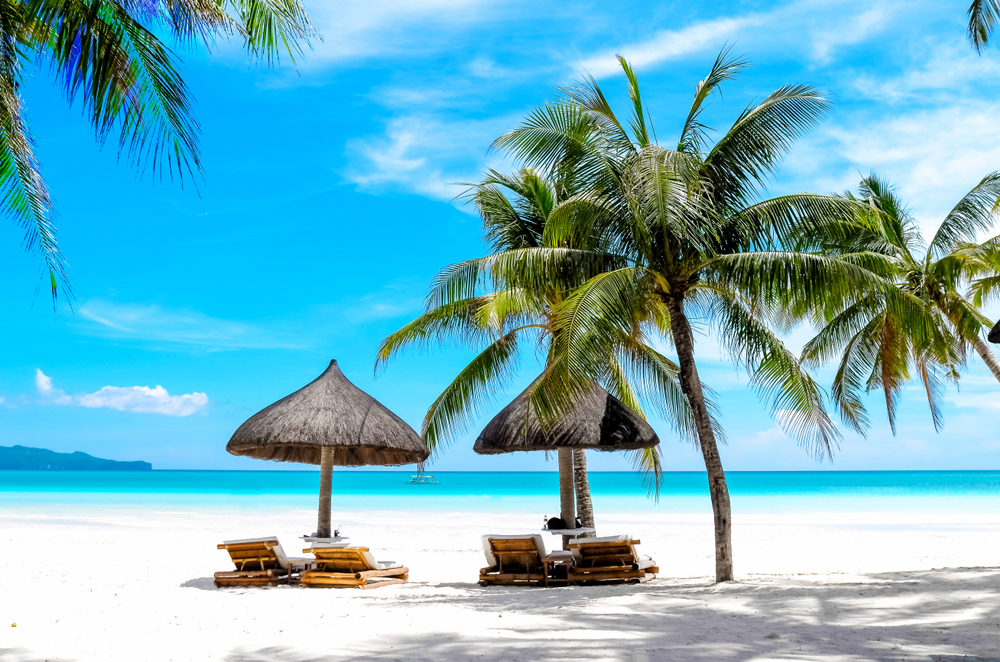 2). Siargao
As confirmed by the Mayor of the municipality of General Luna, Surigao del Norte, as of November 23rd the surfing capital of the Philippines, Siargao, has reopened its facilities to visitors. 
As per the DOT, flights to Siargao were resumed on December 1st via Sayak Airport near Barangay Heneral Luna and Barangay Del Carmen, allowing international travellers to once again visit the island.
Tourists arriving at Sayak Airport need to comply with safety health requirements that include a valid ID, and e-health pass, a negative RT-PCR test result taken within 48 hours of leaving their point of origin. 
They must also show confirmation of 5 days accommodation booked from an establishment with a CAO (Certificate of Authority to Operate) or a PCAO (Provisional Certificate of Authority to Operate) from the DOT, and onward travel details or a round-trip return air ticket.
A curfew will be enforced on the island from 11 p.m. to 4 a.m. 
3). Palawan
As announced on the official DOT Twitter account, Coron Island reopened to local tourists from the beginning of December, while El Nido has been open since October 30. According to approved protocols and guidelines for visitors, any citizen or foreigner aged 15 – 65 years old residing in the Philippines will be allowed to visit the Palawan for leisure purposes. 
All visitors are required to register by completing a health declaration form which can be accessed via the El Nido Tourism website. Guests from Manila who tested negative for Covid via RT-PCR test 72 hours prior to departure will be permitted to enter Palawan.
After registration via the El Nido tourism website, a unique QR code will be issued which serves as an entry pass upon arrival at either Coron or El Nido airports. All visitors must undergo a thorough health assessment conducted in the triage area of the airport.
4). Masungi Reserve
After months of closure the premier eco-tourism destination, the Masungi Georeserve in Rizal province just outside of Manila reopened for tourism as of November 25th.  Guests are required to book their reservations on the website at masungigeoreserve.com. 
In order to observe minimal health protocols, only a limited number of 5 – 8 guests per group will be allowed without testing requirements. However, if a guest should exhibit symptoms while at the site, a COVID-19 test will be conducted. 
All areas are open-air or outdoor spaces and pre-designated spaced-out areas have been allotted at the end of the trail to allow for safe dining experiences. 
5). Ilocos Sur
Ilocos Sur is another tourist destination that has welcomed visitors since November. To ensure strict implementation of health and safety protocols and effective crowd control the local government will limit the number of visitors to 50 per day. 
Protocols are to be observed from the beginning of the borders of Ilocos Sur province and triage testing centres are located at the municipalities of Sinait and Tagudin.
The following travel requirements are to be presented by tourists on arrival:
A printed or digital copy of a QR code SafePass that can be accessed via SafePass 

A negative RT-PCR result for a test taken 48 hours before leaving the point of origin

A confirmed itinerary from a DOT-accredited travel agency

Confirmed accommodation from a DOT-accredited establishment

A government-issued ID
At the Triage and Assistance Center at Ilocos, Sur guests will be required to have an antigen test taken that will be valid for 3 days. Tourists who intend to stay longer than 3 days will be required to take another test on the 4th day.
10 diving spots and at least 18 tourist destinations have reopened in the Ilocos Sur region including the Heritage Village in Calle Crisologo, Nuestra Senoraq De La Suncion Church, Ilocos Sur Adventure Zone, the Baluarte Zoo, the Hidden Garden, Pinsal Falls and the Dancing Fountain.
6). Bohol
After being closed for months due to the COVID-19 restrictions, Bohol is also planning to follow other local tourist destinations by reopening to welcome visitors from the second week of December. 
While Bohol is best known for its Chocolate Hills, (one of the most epic creations of nature), the island offers the adventurous tourist even greater wonders hidden in the stillness of its forests and its pristine sand beaches.
According to the Tourism Secretary, visitors must have a negative result from an RT-PCR test taken 48 hours before entry to the island. Bohol is currently open for big events like meetings, exhibitions, incentives, conferences and weddings.
While tourism destinations in the Philippines are gradually reopening and travel restrictions are being relaxed in a bid to slowly open tourism, travellers are urged to remember that following all safety and health protocols implemented by the government will ensure that they are able to enjoy a safe and enjoyable vacation even amid the pandemic. 
The Tourism Depart of the Philippines has launched their online platform that lists local destinations now open to visitors even amid the pandemic. The list contains details of the tourist spots in regions and provinces with their respective areas already open to tourists.
Please like and share this article with friends and family or if you want to leave any comments or share your experiences, please leave your comments below. And please don't forget to check out my related articles and videos below.
Related Articles:
Best 9 Places To Visit In Bohol
Best 20 Places To Visit In Palawan
More Places In The Philippines:
Related Videos: