Casaroro Falls – A Hidden Treasure in Negros
Contributed by Ariana Reyes & Matt Brimble, 26 July 2018.
About half an hour away from Dumaguete City, the town of Valencia holds one of the hidden treasures in Negros, Casaroro Falls. The best part about visiting these falls is that actual trek is relatively easy.
To reach the falls, there is a 350-step stairway followed by a brief trek along boulders and little river crossings. As a result, be prepared to get wet!
However, the journey down to the base of the falls is definitely well worth it and is one of the best Philippines destinations in Negros.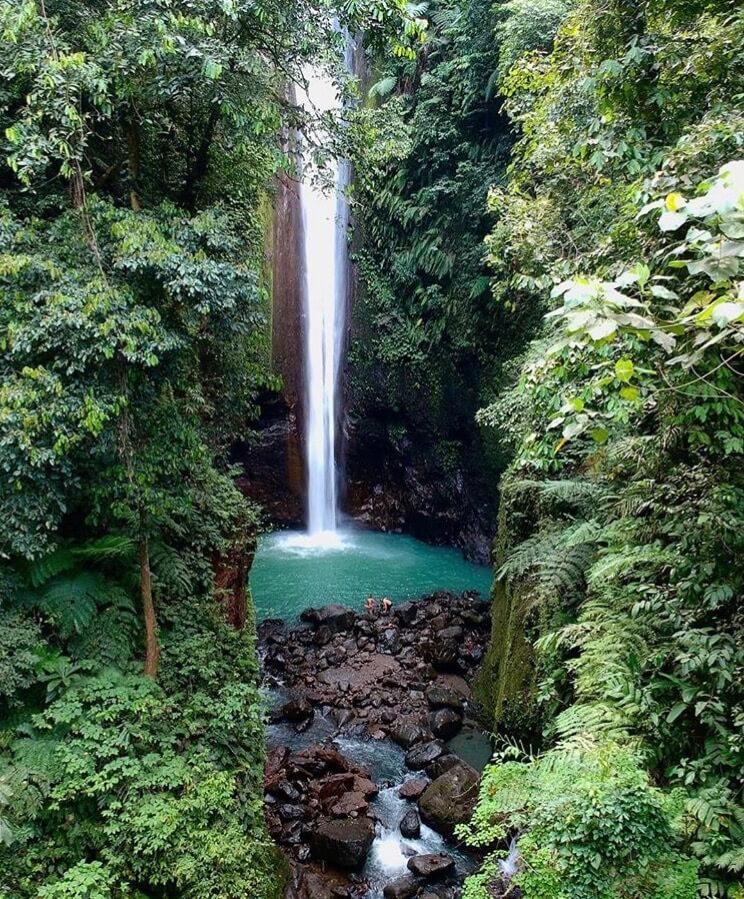 Majestic Waterfall
Casaroro Falls is about 30 meters high and is a magical sight to see. If you have worked up a sweat, you can freshen up by swimming in the cool waters of the falls.
We didn't stay in the water very long though as it was a chilly day so the water was freezing! For those who aren't looking to swim, picnicking on the rocks around the falls is possible.
The area surrounding it is picturesque making it perfect for a quiet relaxing picnic lunch.
It is advisable to hire a guide to take you through the rocky terrain especially if you are a beginner or require assistance. Guides can be found waiting near the parking area and it is fully recommended to use one.
The guides will also watch over your belongings as there are no lockers around the falls. They will even offer to take your photographs.
Another plus of having a local guide is that they also suggest other nearby tourist destinations and local landmarks.
Our guide suggested we visit the Twin Falls, one of them being the famous Pulang Bato ("Red Rock") Falls. However, due to time constraints, we were not able to visit.
It is best to visit Casaroro Falls in the morning to avoid big crowds and late afternoon showers.
Our guide said that the rocks get quite slippery and the water of the falls may overflow depending on the heaviness rainfall, so it's best to check the weather forecast before heading there.
We recommend setting aside about 2-3 hours for Casaroro Falls (this includes to the walk down, time at the falls and the climb back up).
The climb back up, especially on the stairway, is definitely a workout, but it gives another chance to stop for a few moments and soak in the serene surroundings in one of the best places in the Philippines.
Stop In Valencia For Lunch
Since we started our trek a bit late and did not bring much food with us, we decided to look for some food after the falls.
In the town of Valencia, a few minutes from the falls is a recommended restaurant, called Spice Café and Restaurant. Here they offer a variety of local and foreign cuisines from Western food, to Indian, to local Filipino dishes.
We got a chicken sandwich with fries on the side, creamy chicken pasta, a mango shake, and a banana shake! We could tell they used good ingredients because the food tasted great!
The portions were also pretty good, considering it satisfied our post-trek hunger. We got all of this for around P500. They also have a wide selection of coffee and alcoholic beverages.
Packaged imported goods can also be found here. The neon theme of the restaurant also gives a positive and lively vibe.
The town of Valencia is well worth a visit if you are ever in Dumaguete City. And if you are looking for a getaway for the day, then Casaroro Falls is a highly recommended spot.
Fees:
Entrance Fee: P20
Parking Fee: P20
Guide: P200
CASARORO FALLS FAST FACTS:
Google Maps: Casaroro Falls
From Dumaguete City to Valencia is only about 13 kms and takes about 30 minutes.
The most convenient way to get there is by private car or motorbike, however, a tricycle from the Dumaguete City can also make the journey. However, be warned – the drive up the mountain is fairly steep!
The locals are also very helpful in finding the place if you find yourself lost. Upon reaching the big sign of Casaroro Falls, you will find yourself in the car park.
The car park is where you will begin your descent to the falls. It is only possible to reach the falls by foot.
There are a number of places along the trek where you can stop and enjoy a picnic lunch so it is highly recommended to pack a picnic and really enjoy the surrounds.
Please check out the related articles and videos below and please feel free to share this article with family and friends and also join the conversation below!
Related Articles:
Best 9  Places To Visit In Negros
Best 9 Places To Visit In Bohol
Best 8 Places To Visit In Cebu
More Places in the Philippines:
Related Videos:
Is Siquijor Island Really Haunted? Tour Guide Shows Best Places To Visit | Deztreks
Swimming With Sea Turtles! Amazing Apo Island | Deztreks
The Maldives Of The Philippines | Manjuyod Sandbar | Deztreks
Amazing Hot Spring In Dumaguete | Baslay Hot Springs | Deztreks
Unbelievable! Tallest Waterfall In Negros Near Dumaguete Must See | Deztreks
Please feel free to leave comments below and also feel free to share this article with family and friends. Also, don't forget to check out the related articles below.
Related Articles:
Eight of the Best – Best 8 Waterfalls to Visit in the Philippines in 2019
Beautiful Negros – Best 9 Places To Visit In Negros In 2019
Hulugan Falls  – The Most Beautiful Waterfall In Luzon
More Places in the Philippines: