Dampalitan Island – The Island That Isn't An Island
Dampalitan Island isn't really an island – it is more like a small peninsula in Quezon province. This was our last stop of the day after Puting Buhangin and Borawan and by the time we reached Dampalitan, it was already late in the afternoon. As we were approaching, even from kilometres away, you could really notice the white sand glowing on the horizon, an amazing sight.
The other thing I noticed as we pulled in was the pine trees mixed in with the palm trees along the beach, which is not really the norm in this part of the Philippines. These pine trees made for some great photos as they formed an interesting silhouette against the sunset.
Empty Beaches
There were a few little stores around and some locals, but other than that, it was quite secluded. We took a walk around the southern side of the "island" and found some interesting rock formations which were exposed at low tide. Further around, there were several hundred metres of totally uninhabited white sand beach. As I stood in awe, beer in hand, I remember thinking to myself that it never ceases to amaze me that for a country of over one hundred million people, a beach that is relatively close to Metro Manila, can be so vacant.
Like Borawan, there are a few jellyfish around this area however, they do have nets in place to protect swimmers so it's quite safe.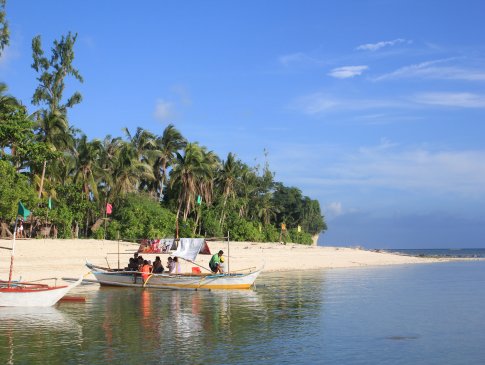 The glowing white sand could be seen from kilometres away and was a real feature of this tropical paradise.
Another one of the reasons I love exploring some of the out-of-the-way places – we get the whole of this beautiful beach to ourselves!
Total seclusion. There aren't too many white sand beaches around that are this empty.
Me looking for the money shot among a jungle of palm trees with the sun getting ready to set.
The sun setting through the pine trees gives a different feel than the usual palm trees.
Looking back over towards Borawan Island with a sensational sunset unfolding. It was like someone had painted brush strokes across the sky.
Costs:
Dampalitan Entrance fee: P60
Dampalitan Hut/Cottage Rental: P850-1000 (big huts good for a dozen people)