Cabadbaran – Hidden Back Beach In Agusan Del Norte
Cabadbaran City is a sixth class city and provincial capital of Agusan Del Norte. I will keep this short as to be completely honest unless you were backpacking and wanting to cover the entire coast of the North Eastern part of Mindanao, you would really only pass through this place.
For me, I guess I was lucky enough through my family connections to spend an afternoon sitting by the sea in a fairly secluded "local" beach eating fresh seafood and fruit, whilst enjoying a bit of rum and the sea breeze. Although not the most spectacular beach with rocky pebbles instead of sand, it was a nice relaxing little part of the world.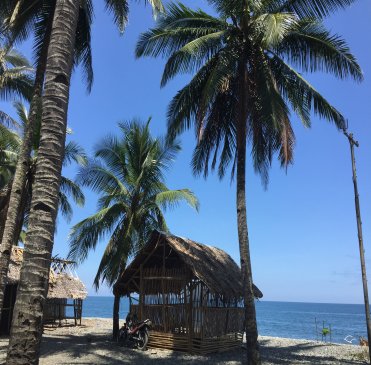 I don't even know if this beach has a name, but this is the nipa hut we stayed in for the afternoon whilst enjoying the serenity, the food and drink.
Mount Hilong Hilong (background), with an altitude of 2,012 metres (6,601 ft), is the highest mountain in the Caraga Region.